How to Select the Best Dog Food - Guide to Dog Food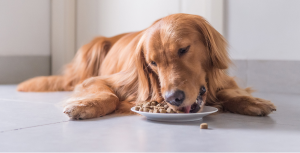 Selecting the proper food for your dog is a responsible task, and luckily, you are not the only one struggling with finding a good source of nutrition for your canine friend. Thanks to the power of the Internet, you can find the reviews of all the types of dog food out there and see what real people think about different brands of pet foods and find the recommendations of which food is better for your doggie.
Of course, first thing's first, you've got to talk to your vet and ask which kinds of food and what diet are best for your particular dog. All the dogs are different, which is why you need to select a specific nutrition plan that would correspond to your pet's needs. Today, we are going to take a look at some of the dry food options we have on the market and see why it is important to choose the right thing.
Dry food is one of the most popular options among the dog owners due to its nutritional value, price, and the fact that you can keep it for months as it is almost non-perishable. Choosing a proper dry food is not easy, and it is best that you first go and talk to your vet. Each breed has its own dietary needs and requirements – and it's not like large breeds just need to eat more than smaller breeds. It is much more complicated as larger dogs need additional nutrients for bone strength, muscle development, and cardiovascular health.
Selecting the proper food for your pet means making sure it grows healthy, stays strong, and remains happy at all times. For instance, older dogs are better off eating grain free dog food as it is much easier on their stomach. That is why you have to be careful when choosing the right kind of food for your buddy. Dry food might also be a bit challenging for the older dogs to chew on, so you've got to consider other options if your old boy cannot bite that hard anymore. Older dogs require additional care, which is why their diet has to contain essential nutrients such as collagen for the proper functioning of all the joints, as well as vitamins for healthy skin, teeth, and bones.
Wellness Complete Health Dry Dog Food
Instinct Original Grain-Free Dry
Nature's Logic Dry Dog Food
Taste of the Wild Dry
Blue Buffalo Life Protection Dry
Larger breeds require a more complicated nutrition plan as the larger dogs require more nutrients than smaller dogs, and you have to consider all the dietary needs of your pet before you buy the food. Large dogs require lots of carbohydrates in their diet as they are the most common source of energy. That is why you should stick to the foods that include some quality carbs such as brown rice and oatmeal.
Secondly, you need to pick the food that is rich in protein to help your dog sustain its muscle tissue and stay healthy and lean. Healthy amounts of fats, fiber, and vitamins are also crucial for keeping your dog safe and happy. Here, we have a selection of the best foods that contain all the essential nutrients that come from meats and grain.
Best Dry Dog Food for Senior Dogs
Purina Pro Plan Focus
Diamond Naturals Dry Kibble
Nulo Freestyle Dry Dog Food
Nutro Ultra Dog Food
Eagle Pack Dry Dog Food