The Best Cheap Dog Food for Puppies - My Top 10 Picks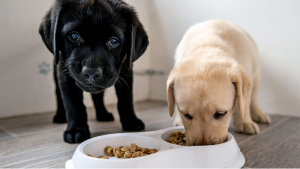 We can all agree that puppies are the cutest thing in the world after babies and kittens. These adorable furballs can make your day even after you've been through the wringer. And it's up to you to make them healthy and strong to become your loyal companions for years to come. While training, playing, and grooming are important, nothing is as crucial for the puppy's well-being as quality food. Any vet will tell you that proper nutrition is key to preventing a host of health issues. Besides, you don't need to spend thousands of dollars on dog food when there are plenty of affordable options. Let us guide you through the ten varieties we wouldn't mind feeding to our puppies.
What Passes for the Best Budget Puppy Food?
Cheap should never equal low-quality when it comes to your choice of dog food. While there's no reason to overpay for the brand name or excessive marketing, going for the cheapest option you can find is a sure way to run into trouble. Don't be penny-wise, but pound-foolish is what we're saying.
Ingredients list and nutritional info table should be your first clue when choosing kibble or moist food. There should be plenty of protein and fat, more than in adult dog food options. Organic poultry and meat are the best sources of protein. And while by-products are cheaper, their nutritional value is lower too, and some components may even cause digestive issues.
Carbs are necessary to provide your puppy with enough energy to run around and play. Still, they should not come from wheat or corn. The best grains for puppies include rice and buckwheat, while others serve only as fillers that might, once again, lead to allergies, soft stool and other digestive problems. Corn sugar should not be on the ingredients list at all, as it adds nothing but empty calories and increases the risk of obesity, diabetes, and other health issues.
Animal and plant-based oils are crucial for a shiny coat and healthy eyes, so be on the lookout for omega acids, as well as sunflower oil and chicken fat. Vitamins and minerals should also be present in balanced quantities to supply the puppy with everything he needs for healthy growth and development. Artificial flavor, colors, preservatives, and other chemicals should be kept to a minimum, as they might have adverse effects on your puppy's health.
Here Are Top 10 Best Value Puppy Food in 2020
Is it possible to find good cheap puppy food? We believe so, or this shortlist would have never happened. While there are dozens of manufacturers and hundreds of options available on Chewy and Amazon, we've selected those that are most popular among buyers and their puppies while remaining in the affordable range.
As always, our analysis is based on a few things. First, we study the ingredients list under a microscope to figure out the protein, fiber, and fat sources and decide whether they are suited for young dogs. Then, we compare producers' promises and claims to genuine customer reviews. And while it's nearly impossible to find wet or dry food with a 100% rating, we've managed to select the ten options that come very close to this unachievable mark. Finally, we look at specific complaints, such as refusal to eat, digestive troubles, and allergies. These make it to our reviews as a fair warning to you. Remember to start small and watch your puppy closely when adopting new food, and stop feeding it immediately if you notice any health issues.
Finally, we remind you to consult a vet before settling on any of the options from this shortlist. Although sometimes even trained professionals cannot predict individual reactions to certain components, they are your best bet for keeping the puppy safe and healthy.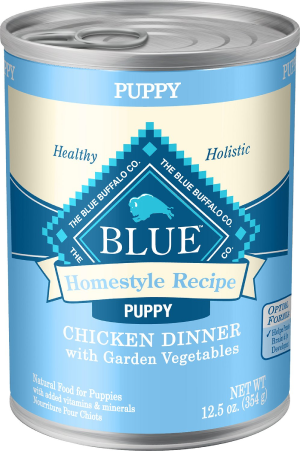 Blue Buffalo Homestyle Recipe Puppy Chicken Dinner with Garden Vegetables
Check price
The juicy and delicious chicken-based recipe is free of corn, wheat, and by-products, as well as artificial flavors and preservatives. Its ingredients list is exactly what you want to see when looking for safe puppy food. Follow the Blue Buffalo Puppy Feeding Guide and mix this food with kibble for added variety or supply as an entree. Despite the great recipe, puppies might reject this food, so start with a single can for tasting.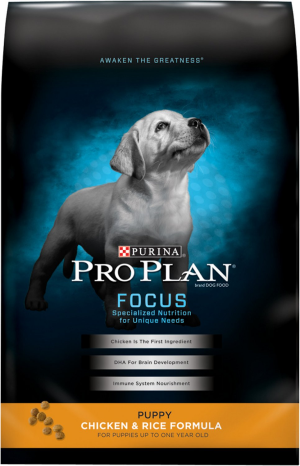 Purina Pro Plan Focus Puppy Chicken and Rice Formula
Check price
One of the all-time favorites of many dog-lovers, this high-protein kibble is everything the puppy needs to grow strong and healthy. There are enough vitamins and minerals, fatty acids, and fiber to supply the energy and support digestion. Still, it's not grain or gluten-free, so pay attention to your doggy to watch for signs of stool issues.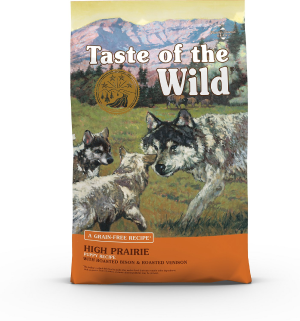 Taste of the Wild High Prairie Puppy Recipe
Check price
The unbeatable best-seller boasts an increased protein content thanks to the use of multiple whole ingredients, including buffalo, lamb, venison, and beef. Grain-free and full of nutritious additives, this formula is beloved by thousands of dog-owners, and the puppies are ever happy to enjoy the delicious, perfectly-sized kibble.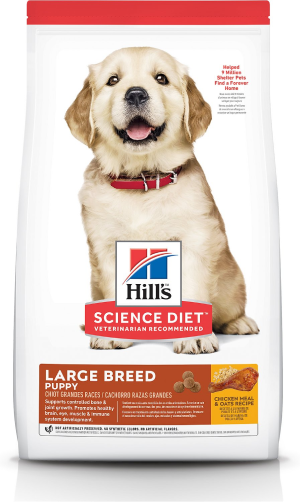 Hill's Science Diet Large Breed Puppy
Check price
Formulated with large breed needs in mind, this recipe holds just the right amount of calcium, chondroitin, and glucosamine to promote healthy bones and joints. Chicken is supplemented with whole grains and vitamins E and C to ensure your puppy's immune system can tackle any potential issues.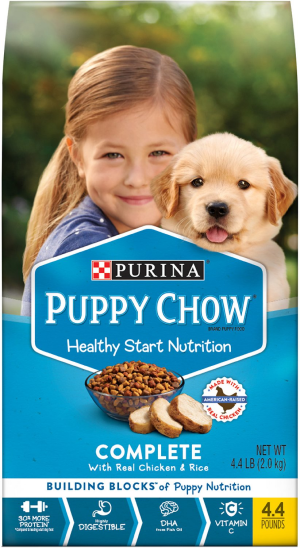 Puppy Chow Complete With Chicken & Rice
Check price
This is a one-size-fits-all formula that has been popular with dog owners for years. While the chicken, vitamins, and minerals are all great for your puppy, some of the ingredients raise questions. The abundance of corn, barley, rice, and by-products should have kept the price at a more affordable level.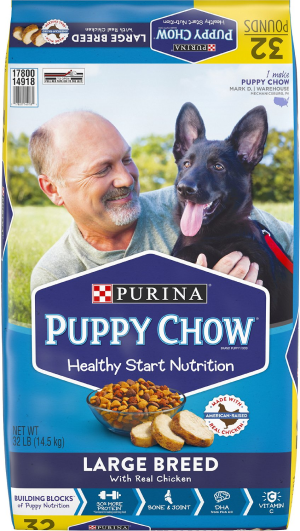 Purina Puppy Chow Large Breed with Real Chicken
Check price
This high-protein formula enjoys added vitamins and minerals, along with DHA and joint-conscious additives, to ensure your puppy grows into a gorgeous large breed. Despite its popularity, some buyers complain about the ingredients list that includes corn, soy, and chicken by-products.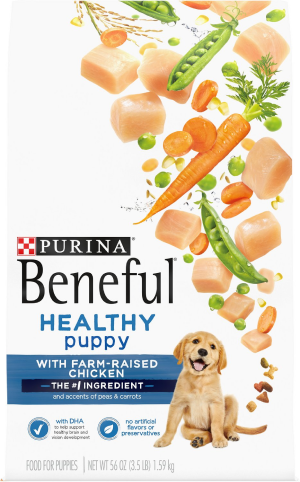 Purina Beneful Healthy Puppy with Real Chicken
Check price
A popular well-balanced food by a respectable brand, this kibble is chicken-based and complete with 23 nutritious supplements for all-around healthy puppies. It's not grain-free, but this recipe does not contain artificial colors, flavors, or preservatives. Still, it might fall a bit out of your budget range considering the size of the bags.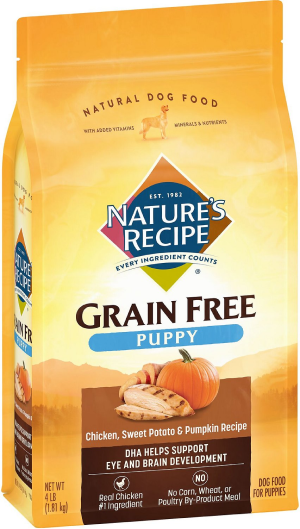 Nature's Recipe Grain-Free Puppy
Check price
This is an excellent example of clean and affordable puppy food with no fillers. Chicken is complemented by barley and oats for fiber, while pumpkin and sweet potatoes provide the much-needed carbohydrates. Small packaging seems like the only downside to this variety we could find.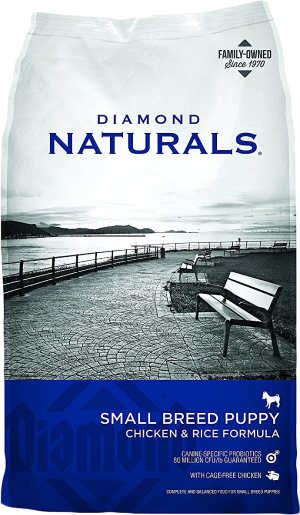 Diamond Naturals Small Breed Puppy Formula
Check price
This kibble is perfect for toy and small breeds, as it's full of healthy chicken-based protein without any of the usual fillers, including corn and wheat. There are no preservatives and artificial additives either. Probiotics should resolve most digestive issues, but you'd better keep an eye on your puppy's stool for a while.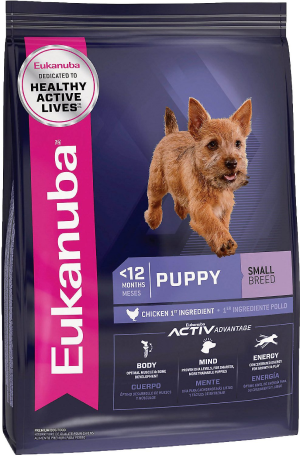 Eukanuba Small Breed Puppy
Check price
Another high-protein and high-fat kibble, formulated with the needs of tiny puppies in mind. The chicken-based formula is complemented by grains and a laundry list of supplements to ensure the healthy and balanced development of all organs and systems. Most puppies love it, though picky eaters may turn their noses up on this option.
TOP 3 Best Inexpensive Dog Food for Large Breeds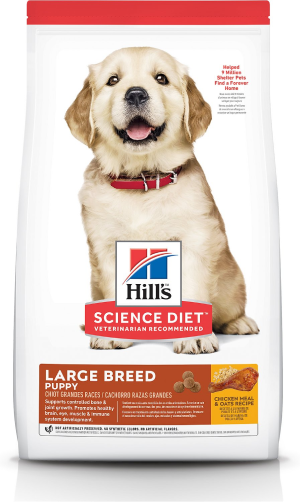 Hill's Science Diet Large Breed Puppy
Check price
Hill's Science Diet Large Breed Puppy is exactly what you need to grow a beautiful and healthy golden retriever, labrador, or Great Dane. The recipe holds enough chicken-based protein to promote muscle development. Joint-conscious components are present as well to ensure your puppy has no issues, such as hip dysplasia, in the future. The balanced combination of vitamins supports the immune system and helps the puppy stay energetic and strong throughout the first twelve months. It's certainly not the cheapest option on this list, but if you follow the Science Diet Puppy Feeding Guide, you won't have to waste money on extra visits to the vet. Besides, the packaging is perfect for large puppies. You get to choose between 15.5 and 30-pound bags that will last a couple of months, at least.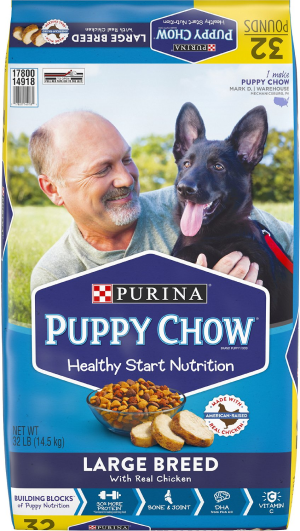 Purina Puppy Chow Large Breed with Real Chicken
Check price
If you want to follow the Purina Puppy Chow Large Breed Feeding Guide, you should be aware of a couple of things. For one, it is formulated specifically for large dogs, so there are plenty of components to promote strong bones and healthy joints. A full complement of vitamins and minerals is there to ensure your puppy's all-around well-being. The protein content is high enough to compete with the most expensive options on our list at 27.5%, and 10% of fat and 5% of fiber are just right. However, you might be surprised to learn that the main ingredient of this kibble is actually whole grain corn. Chicken by-product meal takes second place and is followed by corn gluten meal. The trio of components helps the brand keep the price tag as low as it is for a 32-pound bag. However, a corn-based diet is not ideal for carnivores, and some puppies develop digestive issues when eating this kibble. If you're set on choosing the cheapest option, this variety might suit your needs, but you should keep an eye on your doggy to make sure his health does not deteriorate.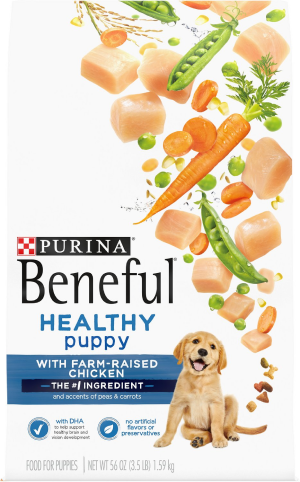 Purina Beneful Healthy Puppy with Real Chicken
Check price
Yet another affordable kibble by a respectable brand, Purina Beneful Healthy Puppy with Real Chicken, delivers great overall nutrition without breaking the bank. Unlike the previous option, this kibble is poultry-based, and chicken is the first on the ingredients list. This results in high protein content of 28%, while the fat content is kept at 14%. Like most Purina products, this one is not grain-free, so don't be surprised to find corn, wheat, and soy on the back of the bag along with rice, barley, and chicken by-products. The formula is made better by the absence of artificial color, flavors, and preservatives. However, it does contain 23 vitamins and minerals that meet every nutritious need of your large breed puppy. Despite some complaints about the ingredients, most buyers praise this kibble for being a favorite of their puppies. Luckily, you can try it out with a 3.5-pound package before committing to a 14-pound bag.
TOP 3 Affordable Puppy Food for Small Breeds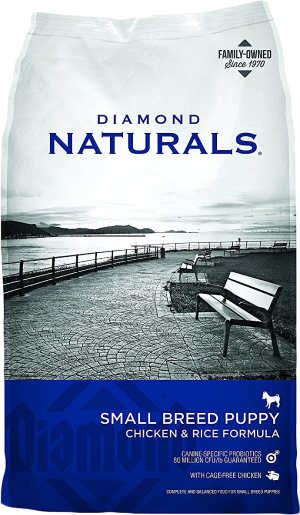 Diamond Naturals Small Breed Puppy Formula
Check price
With high caloric value, protein and fat content, Diamond Naturals Small Breed Puppy Formula is perfect for supporting your tiny energetic puppy happy and healthy throughout the first months of his life. The recipe is poultry-based, and range-free chicken takes its rightful place as the first of the ingredients. Probiotics are there to help your puppy's digestion, while fatty acids promote shiny fur and healthy eyesight. While the kibble has zero corn, wheat, or other grain fillers, some buyers still complain about digestive issues, but these are likely caused by individual reactions. You'll have your choice among a variety of bag sizes (6, 18, or 40-pound). Make sure you let your puppy taste-test it before committing to the largest packaging available.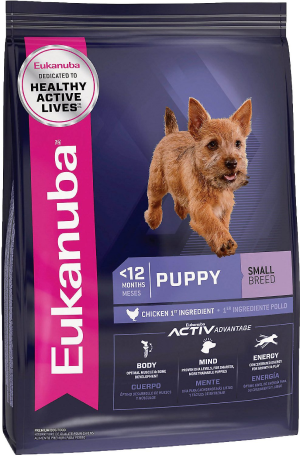 Eukanuba Small Breed Puppy
Check price
Eukanuba Small Breed Puppy might be less popular, but it is still a solid and affordable option. Chicken is the first ingredient, even if it's followed by chicken by-product meal that's less nutritious. Corn and wheat are present in the recipe, but that's alright if your puppy does not have issues with gluten. She will grow strong thanks to calcium, phosphorus, vitamins, omega acids, and other healthy supplements. Some picky eaters might refuse this product, so you should start with a 5-pound bag before switching to 15 or 40-pound packaging.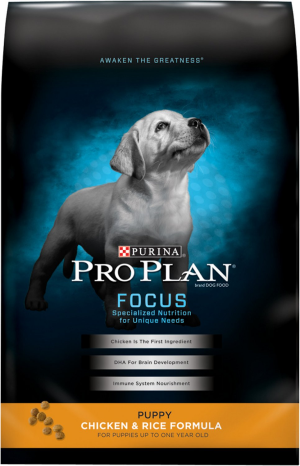 Purina Pro Plan Focus Puppy Chicken and Rice Formula
Check price
Following the Purina Pro Plan Puppy Feeding Guide might be the best decision you can make for your tiny furball. This reliable formula has been around for years and boasts thousands of fans. Chicken-first formula provides 28% of protein with 18% of fat and 3% of fiber, perfect for the high metabolism and energy requirements of small breeds. The prebiotic fiber is there to help digestion, while fatty acids keep the fur shiny and lustrous. Rice, corn, and wheat are all present as well, so it might not be the best choice for gluten-sensitive puppies. Otherwise, it's a solid, high-calorie option available in various package sizes (6, 18, and 34-pound bags) at an affordable rate.
TOP 3 Affordable Puppy Food for Small Breeds
Cheap kibble is usually full of by-products and grain-based fillers. While they make food look alright on paper, your puppy's stomach might get upset. Get ready for cleaning up vomit and liquid stool.
The cheapest options cannot afford to use organic ingredients. Allergies are the common result of puppies eating chicken and grain full of harmful chemicals.
Inexpensive food is often lacking expensive ingredients vital to your puppy's growth. Low-quality synthetic vitamins and minerals are harder to digest, meaning your puppy never gets enough essential building blocks for sharp sight, strong bones, and shiny fur.
Quality control is sometimes lacking even among the top brands. Respected manufacturers will refund or replace any bag you get with a faulty product, while economy brands are likely to ignore your complaints.
Poor nutrition throughout the first months shortens your dog's lifespan and increases the chance of serious health issues down the road. Every penny you save on puppy food, you will ultimately have to pay for drugs and treatments.
TOP 3 Best Economical Dog Food for Medium-size Puppies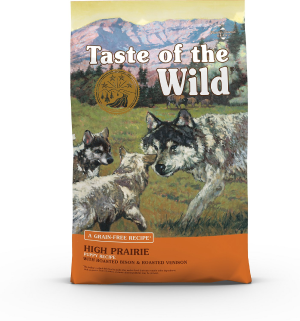 Taste of the Wild High Prairie Puppy Recipe
Check price
Follow the Taste of the Wild Feeding Guide if you're a firm believer in dogs enjoying a diet as close to their wild counterparts as possible. This puppy kibble is lauded for high protein content (28%) derived from a variety of sources, including traditional beef, exotic buffalo, and even roasted venison for increased flavor. Moreover, the formula is free of grains and relies on veggies and legumes to provide the puppy with carbs and fiber (5%). Considering the number of glowing reviews we've found online, it's a variety you should definitely try. Despite the outstanding ingredients list, the price tag is within the affordable range, and there are three bag sizes available holding 28, 14, or 5 pounds of kibble.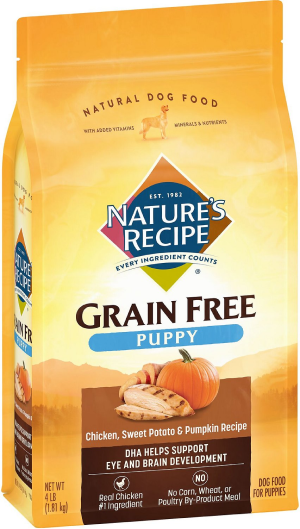 Nature's Recipe Grain-Free Puppy
Check price
Nature's Recipe Grain-Free Puppy is another example of filler-free puppy kibble that's affordable and clean. The chicken-based formula holds 28% of protein and 14% of fat, which is just right for puppies of many breeds. The carbs come from sweet potatoes and pumpkin instead of grains, while oats and barley provide the much-needed fiber to promote healthy digestion. Following the clean ingredient philosophy, the company includes no artificial flavors, colors, or preservatives to keep the formula as puppy-friendly as possible. As a result, it might seem a bit bland to picky eaters, but most puppies love the taste. The kibble is only available in 4-pound and 12-pound bags, so it's perfect for medium-sized breeds.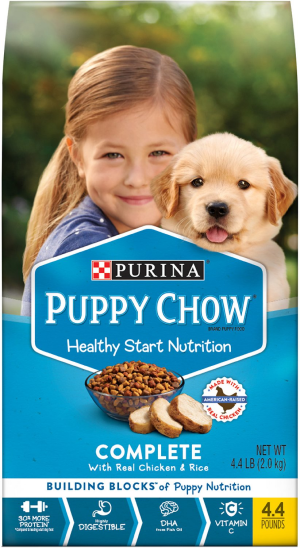 Puppy Chow Complete With Chicken & Rice
Check price
Purina Puppy Chow Complete With Chicken & Rice is certainly one of the most affordable options on the market and this shortlist. The universal formula fits breeds of all sizes and relies on US-grown chicken to provide protein crucial to muscle growth and development. Still, you get what you pay for, and the first ingredient on the list is not actually chicken, but whole grain corn. Rice, barley, soy, and by-products are among the top components, making this variety less optimal for puppies than grain-free formulas. Still, there are plenty of vitamins and minerals to support optimal wellbeing, and most buyer reviews are positive.
The only wet food on our list is Homestyle Recipe by Blue Buffalo, so there's not much competition. Selecting the best kibble options was much harder, but we've narrowed the list to three contenders for large, small, and medium breeds:
Hill's Science Diet Large Breed Puppy is the winner in its category, as it includes the balanced combination of protein, fat, and nutritional supplements to meet your growing puppy's every health need.
Diamond Naturals Small Breed Puppy Formula occupies a special place in our hearts, as it's super healthy and clean. It's highly nutritious without cutting corners or adding grain fillers.
Taste of the Wild High Prairie Puppy Recipe is high-protein, grain-free, and delicious. There's no better option full of vitamins and minerals that tastes like roasted venison to boot.
How to Choose the Healthiest Budget Dog Food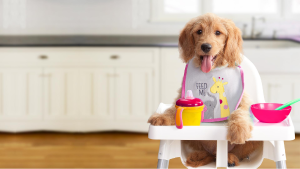 Kibble over moist food. The former might be a bit harder to digest, but it's packed with nutritional value, while the latter is 70% water. The price tag might seem alluring, but once you do your math, you'll see kibble is the most budget-friendly option.
High nutritional value. Some manufacturers keep the price down by adding filler components and keeping the caloric value down. These varieties are cheaper, but you'll use them up quicker, as you'll have to increase portion size.
Health supplements. Quality food should include vitamins, minerals, fatty acids, and more. With none present in the kibble, you'll have to invest in additional supplements, which will drive up your pet care budget.
Bulk size. Remember, you'll need to use puppy food for at least 12 months, so there's no reason to buy tiny packages once you've found the winner. Invest in a large bag, as you'll save on shipping too. Make sure you follow the storage instructions, and you're golden!
Budget-friendly puppy food is real. Follow our recommendations, try out the varieties we've shortlisted, and don't cut too many corners. You won't believe how much more you will have to spend on the visits to the vet if you drop the ball within the first year of your puppy's life.
When do I start feeding my puppy with puppy food?
Usually, puppies start to mouth dog food at the age of 3 weeks. But sometimes a puppy will want to switch to kibble or canned food at the age of 6 months. It all depends on the puppy. But make sure it's moistened with water or even smashed with a fork in case you want to introduce kibble first.
How do I know that I am feeding my puppy enough?
When you feed your puppy three times a day and give the portions recommended by the manufacturer, do not worry. Your pup gets enough nutrients to sustain a happy puppy life. Try not to overfeed your furry friend because that might lead to obesity, diabetes, and other health issues.
Should I feed my puppy with wet or dry food?
It's better to consider both options. Kibble is great for oral hygiene, but it has fewer vitamins and nutrients. Besides, it is harder to digest and might be too tough on puppies' teeth. You can mix it with wet food because it is more delicious for dogs and delivers more useful elements. It contains moisture which will soften the kibble and make it more digestible.
What to look for in cheap puppy food?
You might not be ready to cash out to provide your puppy with expensive food. But it doesn't mean that you can't buy tasty and quality meals without giving a fortune. Before you make a purchase, check for the source of proteins, fats. There's very little likelihood that they would be of the meaty origin; however, avoid any sort of byproducts.
What is the best time to feed my puppy?
The perfect time will depend on your schedule. Just make sure you stick to the same time frames when feeding your pet. Pick the most appropriate time in the morning, afternoon, and evening.
When should I switch my puppy to adult food?
When switching your puppy to adult food, consider the breed type, age, and weight. Small and medium breeds usually mature at the age of 12 months when they are about 20 lbs, medium - up to 50 lbs. Large dog breeds become fully grown when they hit 12 to 18 months, while their weight reaches 50-100 lbs. As giant breeds mature at the age of 18 to 24 months, their weight might be around 100 lbs and more.