Get Your Pup Comfy: Best Dog Crate, Dog Houses, and More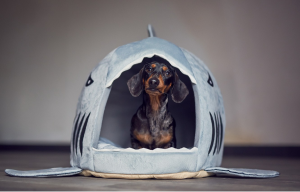 In a busy household, it can be challenging for your pup to find a place of his own. That's where crates and kennels come in and save the day. Even if they look claustrophobic to your eyes, for dogs, they can be safe havens of privacy and comfort at home and on the move.
Wood dog houses are a timeless classic. They boast outstanding design and a natural style that won't look out of place in your backyard. Made of durable cedar, pine, or fir, these kennels are covered with weather-resistant coatings and can last for decades without taking any damage from the elements or your pup's rough treatment. On the downside, wood houses require additional maintenance to look good, and they are a bit pricier than plastic models.
If you decide to go with plastic, you'll have an easier time assembling the kennel and keeping it clean. All it takes is a hose and good water pressure to make the dog house good as new. Plastic kennels are usually cheaper, and their looks aren't as polished. Still, if the plastic is UV-resistant, it will serve you just as long as wood.
Add a plastic door, a comfy bed, or a heated pad to the doghouse, and you won't be able to lure your pup out!
Wire crates are the most common of them all, as they are suitable for pups of all breeds and sizes. These models are lightweight, durable, and strong enough to keep even the largest dogs inside. Besides, the wire design allows for free air circulation and provides the pooch with an unobscured view of the happenings outside the crate. If the crate is large enough to become unwieldy, casters can solve this issue.
If you're looking to give your pup some privacy, consider plastic or soft-shell canvas crates. These are usually hand-held and only large enough for small to medium-sized breeds. Plastic is virtually maintenance-free and easy to keep clean with an occasional wipe-down. Canvas is a bit trickier, but nearly hassle-free if you get a couple of removable waterproof mats to use inside.
After you decide on the preferred material and design, create a shortlist of models you like and do your homework. When you browse dog crate reviews, look for
Dog's reactions. While the puppy parents are gushing about quality, it's their pet's attitude that will tell you more about how comfy the crate really is.
Hidden pitfalls. Small design errors can lead to tragic results if your dog manages to break free because of a weak latch or poor stitching.
Additional buys. Use the reviews to find out which accessories are absolutely necessary to make the crate safe and comfy.
What Is the Hype Around Top Paw Crate About?
You might have heard claims that Top Paw or Kong crate is the next best thing after the invention of the wheel. However, if you look closely at customer feedback, you'll notice plenty of horrible reviews alongside the praises. The sad truth is no amount of research and reviews guarantee a doghouse or a crate will be suitable for your pup. The smallest of details, like an unpleasant plastic smell or a faulty latch, can ruin the product for your family. That's why we recommend only trusted retailers with solid guarantees and return policies. They make getting your pooch comfortable without breaking the bank possible!