The Best Plastic Dog crates - TOP 10 PICKS: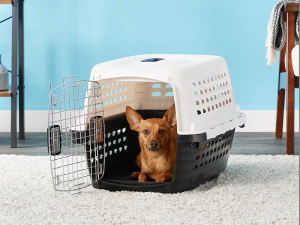 New puppy?
Going on a trip and taking your dog with you?
Want a dog crate that's safe, secure and comfy for your dog?
Most dog owners are familiar with crates. Getting a puppy house trained is way harder without one. So, if you have a house crate but not a travel crate, or you're a first-time crate buyer planning on travelling — a specialized plastic travel crate is essential. Don't worry, we've got you covered. We'll show you the top products on the market, so you can find something no matter what size dog you have.
Advantages and disadvantages of plastic dog kennels
Apart from plastic crates, there are also wooden, soft and wire mesh types. All have their distinct pros and cons. For our purposes, we'll shed some light on plastic dog crates.
First, let's look at how to select the best size kennel.
The easiest way to see if your dog will fit is to see if they can stand, turn around and lie down without hitting their head or being squished by the crate. For a more precise measurement, measure their height from the tip of the nose to their tail and from the top of their head to the floor. Then, add 4 inches to both numbers. The resulting numbers are the length and height of the crate you need. For example, if you measured 15" nose-tail and 10" head-floor, you should be looking for a crate that has dimensions of at least 19" length and 14" height.
Advantages of plastic crates
Easy clean up
Comfy
Durable
Transportable
Better insulation
Doubles as a dog bed
Lightweight
Disadvantages
Not collapsible
May increase feelings of separation/isolation
As you can see, the advantages significantly outweigh the disadvantages. Plus, downsides like increased isolation might only be an issue in models with few ventilation (peep) holes.
Note: if you're looking for an airline-approved crate, there is no universal set of requirements. International flight rules for pets are harder to meet and may require some DIY. Make sure you have all the information for any modifications you need before you go to the airport by contacting your airline representative.
Here Are the Top 10 Plastic Dog Boxes in 2020:
All crates are not created equally. Apart from the size considerations we talked about above, remember that purchasing a crate should be a long-term investment. Don't cheap out, because either the crate will break or the airline won't let you on.
Our top 10.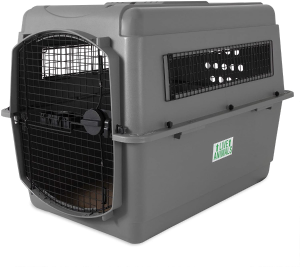 Petmate Sky Kennel Pet Carrier
Check price
A durable, reliable kennel fit for air travel. Includes a securely locking vault-style door and comes in six different sizes (21-48"). This kennel adheres to airline requirements with ventilation on all sides and has a solid steel wire door.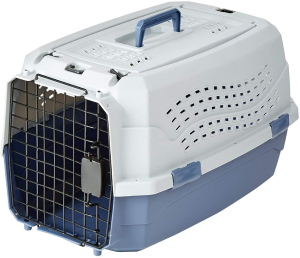 AmazonBasics Two-Door Top-Load Hard-Sided Pet Travel Carrier
Check price
Very affordable travel crate that's perfect for smaller breeds. Has two doors, top and bottom, for more convenience. However, this top-loading design has a flaw that may cause the crate to open while being carried.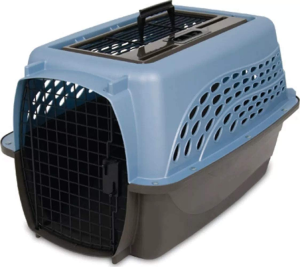 Petmate Two Door Top Load
Check price
Two-door design to make it easier to get your pet in the kennel. Excellent for dogs up to 20lbs. These kennels come in four different color options and are built to last.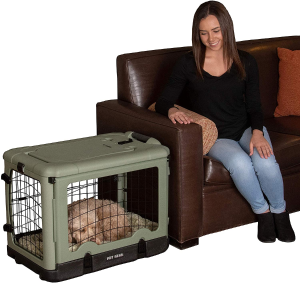 Pet Gear "The Other Door" 4 Door Steel Crate
Check price
Four-door crate that includes a plush bed and travel bag. Sturdy construction and quality materials. Comes in three sizes for dogs up to 90lbs. Three colors to choose from.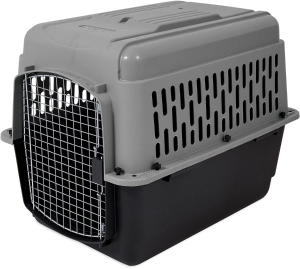 Aspen Pet Porter Heavy-Duty Pet Kennel
Check price
Comes in nine different sizes for dogs up to 125lbs. Solid design, however, the plastic used in this crate looks to be low quality. Several users report significant damage to the kennel due to the low-end plastic.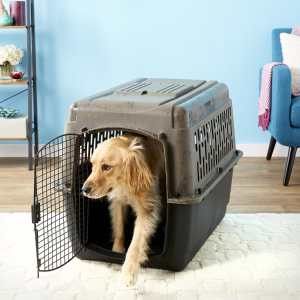 Petmate Ruff Maxx Dog & Cat Kennel
Check price
360-degree ventilation holes, reliable construction and materials, and comes in two sizes/colors. No tools required for assembly. Has a secure door that your four-legged friend won't be able to open.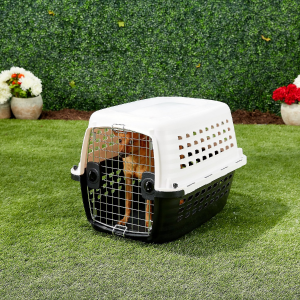 Petmate Compass Dog Kennel
Check price
Easy to assemble and clean. For dogs of all shapes and sizes (up to 90lbs). Very basic design and features, which is reflected in the price. A good budget option for travel.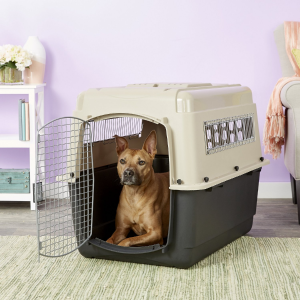 Petmate Ultra Vari Dog & Cat Kennel
Check price
Well-made crate with 360-degree ventilation. Comes in four sizes and colors. The features and materials make it a solid choice for air/road trips. The largest kennel accommodates dogs up to 90lbs.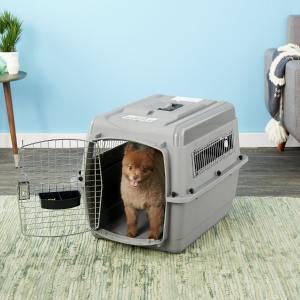 Petmate Sky Dog & Cat Kennel
Check price
Heavy-duty kennel that is easy to assemble and maintain. Comes flight-ready and meets most airline requirements for pet travel. The four different size options ensure you can find something that will fit your dog.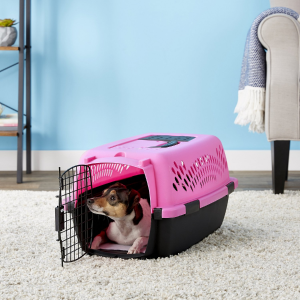 Aspen Pet Dog & Cat Kennel
Check price
A basic carrier without any bells and whistles. For the money, a great choice. Travel doesn't have to be an inconvenience, and with this kennel, your dog will travel in comfort.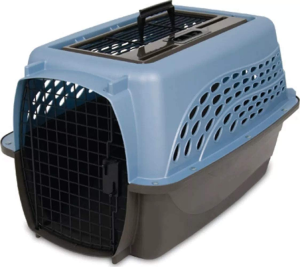 Petmate Two Door Top Load
Check price
Size: 19" and 24"
Color: Hot Pink/Black, Pearl White/Coffee Ground, Pearl Ash Blue/Coffee Ground and Pearl Tan/Coffee Ground
Best features: A 2-door design that excels both in quality and features. Your dog will find this crate roomy and well-ventilated. And you can breathe easy knowing your pet is safe and sound, whether it's in the car, plane, or other form of transportation.
What we didn't like: Some reports of animals injuring their noses on the mesh inside the crate. A big red flag, however, this seems to be a rare flaw.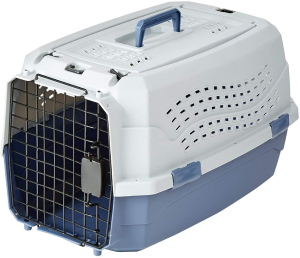 AmazonBasics Two-Door Top-Load Hard-Sided Pet Travel Carrier
Check price
Size: 19" and 23"
Color: Blue/Beige
Best features: This crate has a 2-door design (top and front) for easier access, clean up and getting your dog in and out. The secure latch system makes the construction sturdy and reliable. Putting it together is a breeze, no tools required. Includes vents on all sides, has a steel mesh door and is made of strong plastic.
What we didn't like: Some users complain of the top-loading door being weak. However, for the price point, hard to beat for the money.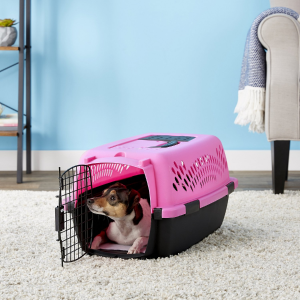 Aspen Pet Dog & Cat Kennel
Check price
Size: 23"
Color: Hot Pink/Black
Best features: A very simple, yet effective design. The ergonomic handle and hot pink top and black bottom make it stylish and a joy to carry. 360 degree ventilation. Has a squeeze latch door that prevents animals from getting in or out unattended. This would be a great choice for a new puppy or a small breed. Perfect for dogs up to 15lbs.
What we didn't like: Nothing we can nitpick at.
TOP 3 Medium Plastic Dog Crates: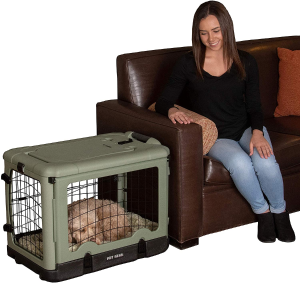 Pet Gear "The Other Door" 4 Door Steel Crate
Check price
Size: 27", 36", 42"
Color: Chocolate, Sage, Tan
Best features: The crossroads of plastic and metal mesh. This is the only collapsible plastic dog crate on our list and this unique feature makes it extra special. It opens on all four sides, has an insulated bottom, and best of all, comes with a plush bed to match the color of the crate. Folds down to a small size and can be stowed away in the included storage bag.
What we didn't like: Not airplane-friendly.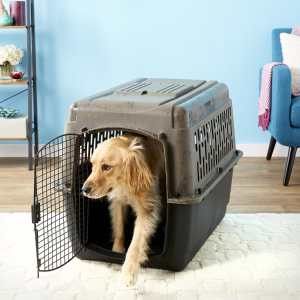 Petmate Ruff Maxx Dog & Cat Kennel
Check price
Size: 32" and 36"
Color: Camo/Black
Best features: Comfort, class and convenience. This crate has it all — 360-degree ventilation, secure steel mesh door and squeeze latch lock. What's striking about this crate is the color combo and the fact that it's made in the US from recycled plastic.
What we didn't like: The plastic used to make this crate is considered by some to be flimsy and brittle. This could be due to the fact that it's recycled plastic.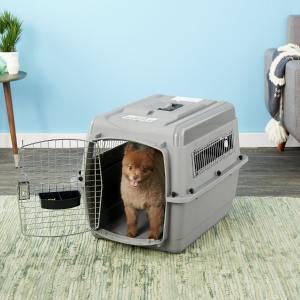 Petmate Sky Dog & Cat Kennel
Check price
Size: 21", 28", 32" and 36"
Color: Beige
Best features: Airplane-friendly. meets most airline requirements for pet travel. Includes an attachable food and water cup and stickers for plane travel. It also has plenty of ventilation. Your dog, no matter what the size, will find this crate comfy and secure, even on a long, international flight. High-quality mesh door.
What we didn't like: This Petmate crate seems to suffer from the "brittle plastic" problem as some of the other models. Although rare, this problem could be potentially dangerous.
Why choose a Petmate airline cargo crate?
Crates made by Petmate are generally high-quality, well-designed and thoroughly tested.
Petmate manufactures its products in the USA.
The only crate accepted by almost all airlines is the Petmate Sky Kennel (check out the next section to read more).
Petmate includes (in select models) clip-on food and water bowls, stickers and other accessories required for plane travel.
The company has been making crates since 1959.
TOP 3 Large Plastic Dog Crate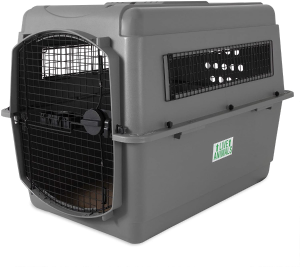 Petmate Sky Kennel Pet Carrier
Check price
Size: 21", 28", 32", 36", 40" and 48"
Color: Gray
Best features: This is one of the best crates on our list. It features a vault-style, 4-way door, strong plastic and steel mesh. Plenty of ventilation holes for fresh air and something to peek through for the curious canine. Includes clip-on bowls and stickers required for air travel.
What we didn't like: Only comes in one color, but considering how well-made it is, the color isn't really relevant.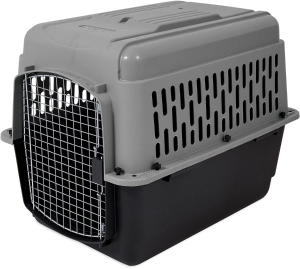 Aspen Pet Porter Heavy-Duty Pet Kennel
Check price
Size: Nine sizes ranging from 19-48"
Color: Eight colors (pink, blue, grey, black, red, dark pink, light grey, pueblo)
Best features: This line of crates has both the smallest and largest kennels on our list, so it can fit any size dog. Very affordable, perfect for people on a budget. Has all the features you want — secure, metal-mesh door, ventilation holes and easy assembly.
What we didn't like: Although this Aspen dog crate price point where we wouldn't complain, the quality of these crates has left some users in a conundrum. This particular crate uses the same marketing and product description images as Petmate crates, but is not actually sold under the Petmate brand.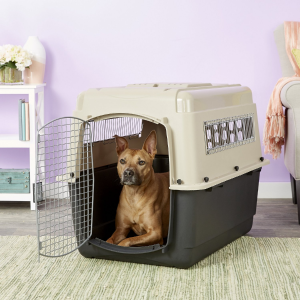 Petmate Ultra Vari Dog & Cat Kennel
Check price
Size: 28", 32", 36" and 40"
Color: Taupe/Black
Best features: A good example of what Petmate crates are supposed to be. This is a highly reliable and well-constructed product that uses the best materials available. Maximum security during travel with latching locks and a hard, durable shell.
What we didn't like: Nothing to say here.
So, what's the best plastic dog carrier?
When choosing a crate, you have to factor in a lot of things. How big will your puppy get? Do you want it to be air travel-ready? Depending on the size of your dog, preferences and what you need it for, your choice will vary.
Here are the top picks from each category: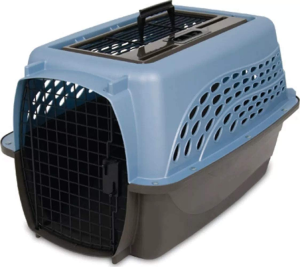 Petmate Two Door Top Load is the best small dog crate
Check price
Double doors for double convenience. Not every dog wants to go through the front of the crate. This crate gives you an alternative — drop them in from the top.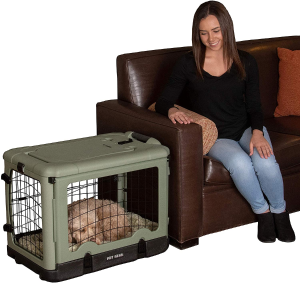 Pet Gear "The Other Door" is the best medium dog crate
Check price
Since we're judging plastic crates and not plastic travel crates, this product wins the medium-dog category. Available in three sizes and colors, it blows the rest of this list out of the water in features.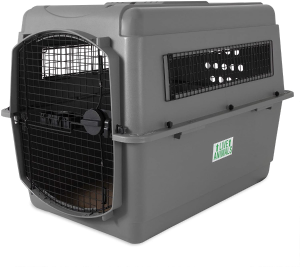 Petmate Sky Kennel Pet Carrier is the best large dog crate
Check price
If you're thinking of traveling with a dog, this kennel is one of the best. Top-notch quality, attention to detail and flight-ready design features.
What type of plastic Petmate dog crates are there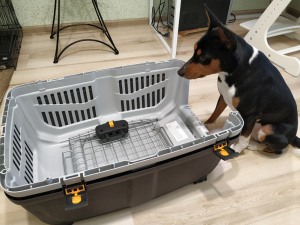 Sky Kennel
Compass Kennel
Navigator Kennel
Ultra Vari Kennel
2-door top-load
Why should I select a plastic dog crate for my dog?
Dog crates come in wood, metal, fiber, plastic, and other materials. Plastic has some benefits that are not inherent in other materials. For example, it's easy to wash and maintain. Plastic crates frequently come assembled, so you don't need to bother yourself and recollect where your screwdriver is. Also, plastic crates are lightweight and could be easily taken with you as you travel.
What type of plastic crate do I need?
The way you are going to use the plastic crate will define your choice. There are models designed for traveling, but they could be used at home as well to give your pooch a quiet place. There are wicker dog crates that are heavy and large, so they should be better used indoors or outdoors.
Is it too late training an adult dog for a crate?
Even though crate training is always associated with puppies, it will equally work great for adult dogs with any background. Crate training, just like any training, is all about consistency and gradual introduction.
Is it cruel to crate a dog at night or while at work?
Opinions are heavily divided on this topic, but as a dog owner, you know whether crating will benefit your pet or not better than anyone else. Some experts say that crates remind the dog of a den, so crating is a way to support canine's instincts. Also, crating might be useful for a dog recovering from the surgery or the one who is ill. It might also be a viable solution if your pet has behavioral issues. Others say that pooches suffer both physically and psychologically when being locked in a crate. The crate restricts natural instincts like stretching, rolling, exploring the environment. It's absolutely up to you, but put your canine's safety first when making up your mind.
Can you crate a dog with separation anxiety?
A dog with separation anxiety symptoms might not only damage stuff around. They might injure themselves or get lost trying to escape from the place where they are usually left alone. Crates have various effects on different dogs with separation anxiety. Some canines who have been properly trained feel calm and safe when left in a crate, while others develop anxiety and get stressed. The best way to figure out how your doggy will respond to crating, keep an eye on your dog's reactions during training. If you notice the slightest signs of dissatisfaction (heavy panting, howling, etc.), you shouldn't crate your pooch with separation anxiety until this problem is solved.