The best wooden dog house - TOP 10 PICKS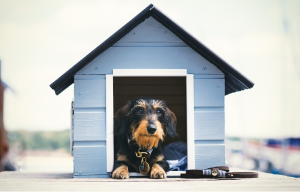 As you decide to get a dog, you want to provide a new family member with the utmost security and comfort level. Along with purchasing toys, beds, feeding bowls, and other stuff, you may want to ensure your pet has their own corner where they can rest peacefully.
That is why a wooden dog house is probably as important as the leash, toys, and other stuff that makes the canine's coexistence with humans more meaningful and pleasant, especially when your pet is an outdoor type because they'll need a shelter to hide from the rain, heavy wind, storm, cold, or any other inclement weather. A house provides your pet with a place of safety and security so that they could peacefully rest knowing there is the space that belongs completely to them.
However, you might be struggling with finding that very dog house that would deliver the desired sense of comfort for your pooch because there are plenty of options today. And not all dog dwellings could keep your pet cozy. That is why we've reviewed the best dog houses for indoor and outdoor use. We will also give you insights about houses that are suitable for extra-large doggies.
But first, let us explain the main pros and cons of a wooden dog house.
Advantages and disadvantages of wooden dog kennel
As with any material, wood has its pros and cons. Most dog owners love the look of the wooden house since it looks more attractive, can be easily modified, restyled, or upgraded. But there are more benefits of wood over other materials.
Wood is a natural material, so it provides insulation due to tiny holes allowing better indoor temperature control. Besides, some types of woods like cedar, lumber, redwood are durable enough and resistant to decay. However, a dog kennel made of woods will require maintenance from time to time, which some canine handlers might find inconvenient.
The natural scent of woods has a calming effect and might soothe your pet if they feel anxious. But if you opt for a low-quality house that is being processed with toxic chemicals, that might harm your dog.
Wooden dog apartments are also heavy and could be hard to assemble.
But in general, wood is a good option if you appreciate natural and dog-friendly materials that provide your pet with a cozy outdoor and indoor environment.
You might be wondering how do you find that very canine dwelling that is durable enough yet safe and cozy? We've got awesome news because we've done the toughest part of the job for you. We've looked through the most popular dog house models and would like to share our insights with you.
Here are top 10 different types of dog houses in 2020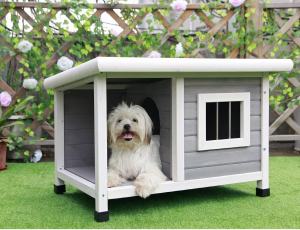 Petsfit Dog House, Dog House Outdoor
Check price
Give your pet a chance to chill out in a comfortable place — this wooden dog shelter. It's made of cedar, which looks and smells great. Being equipped with a removable roof and floor, the house is easy to clean. However, it comes unassembled, and it might be inconvenient for you to set it up. But its elements have pre-drilled holes, so you won't need much engineering experience to assemble this outdoor dwelling for your pooch.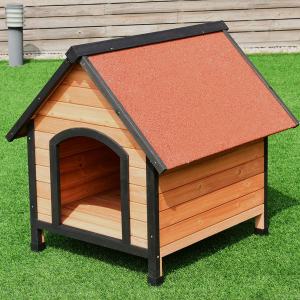 Tangkula Pet Dog House
Check price
If you are not a big fan of fancy designs, consider this classy type dog house. It will provide your pooch with a cozy warm nest where they would spend hours of troubleless rest. Dogs are said to love this doggy apartment because it holds up in the rain and could keep a water bowl, toys, or warm blanket to provide a 5-star rest for your furry family member.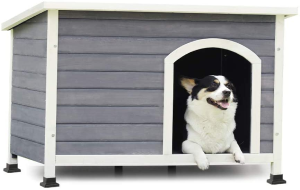 A4Pet Outdoor Wooden Dog House
Check price
This dog house is a great solution for medium and large canines who are crazy about being outdoors. It has gaps in the floor for air circulation during hot summer days and you could cover it with a blanket in winter to keep your canine warm. Dog handlers love this house because it is easy to clean and assemble.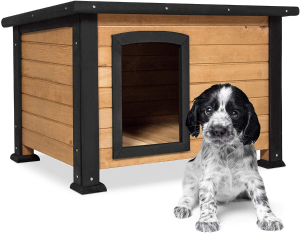 Best Choice Products Wooden Log Cabin Dog House
Check price
Your furry buddy deserves some quality rest in a cozy place like this dog house. It's designed for small pets or pups who don't love spending much time indoors. This product has a durable construction that would last for years and will stand even the most severe weather. Because of the compact size, you can use it as an indoor shelter as well.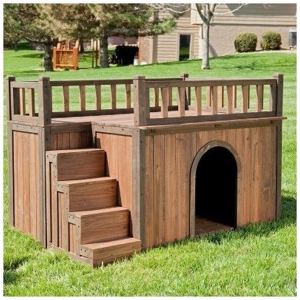 Boomer & George Wooden Outdoor Dog House
Check price
This two story dog house is a perfect match for an idle onlooker. It offers a functional design that looks equally great. Your pet will enjoy taking a nap inside this brand new dwelling, as well as appreciate those hours spent on the rooftop to keep an eye on everything that happens around. It comes with all necessary hardware to easily assemble this house.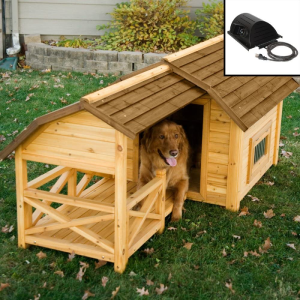 Wooden Barn Dog House for Large & Extra Large Dogs
Check price
Your dog deserves the best of places like this fir dog house for large and extra-large dogs. It's a great solution if you want to give your pet a home they'll truly love and where they will feel comfortable and safe. Among all dog houses with porches, this one is guaranteed to bring lots of joy to your pet. It has an internal heater to keep your canine warm during cold months, while it has windows to ensure good ventilation during hot summer days.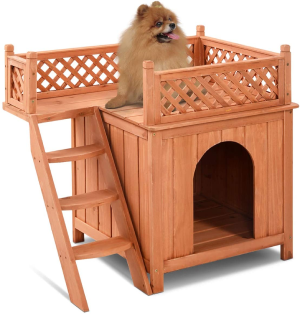 Giantex Pet Dog House, Wooden Dog Room Shelter with Stairs
Check price
This wooden dog house with stairs and a roomy balcony is designed to complement the look of your gorgeous pet and add more zest to your space. This canine dwelling is made to allow your small canine enough space for sleep, rest, play, either inside and on the rooftop. Even though the construction is sturdy and durable, some customers say that the wood splintered in some places.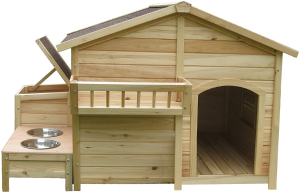 Houses & Paws Country Charm Dog House
Check price
If you are limited by space and would like to get a dog house that provides more options than just a cozy shelter, that's a perfect match for you. It is made both with you and your dog in mind since it provides your canine with enough room for a comfortable pastime and allows you to organize the space better. This model has toy storage and food area at hand. According to customer's feedback, this one is too small for large dogs.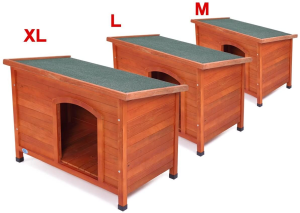 JAXPETY Weather Resistant Dog House
Check price
Keep your dog protected when they stay outdoors with this dog house made of wood. An off-centered door keeps out wind and rain to ensure your pet could comfortably weather rain. Extended feet serve for the purpose of keeping the floor dry even when the ground is wet or has water on it. It comes in three sizes so you could get a home that is roomy enough for your beloved fluffy chap.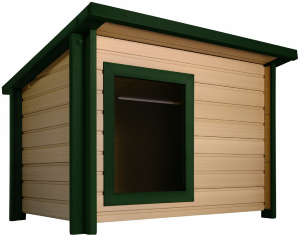 ecoFLEX Rustic Lodge Style Dog House
Check price
This dog shelter is made of ECOFLEX, the special formula consisting of reclaimed food and plastic. This material is waterproof and completely non-toxic. Your pet will enjoy their dwelling because it's spacious enough, and you will love how it looks in your backyard or lawn.
TOP 3 outdoor wood dog kennel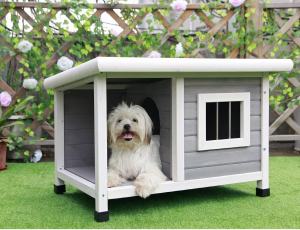 Petsfit Dog House, Dog House Outdoor
Check price
Make your pet feel happy lying around in a comfy dwelling of their own. This dog house will protect your canine in case of rough weather if they are an outdoor type. According to reviews, this product comes unassembled, but it takes around 30 minutes to set up the pieces together. The construction is sturdy to fit pets of all sizes. But one dog owner says that the floor cracks and moves under his pet's weight since the company has removed special support beams in recent models This house features a removable asphalt roof and plastic door flap to ensure neither rain nor snow disturbs your furry friend in case of severe weather.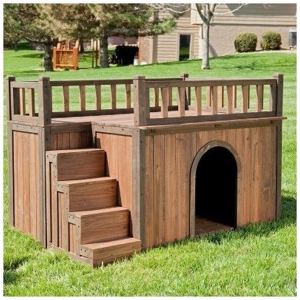 Boomer & George Wooden Outdoor Dog House
Check price
Give your canine more room purchasing this double-decker dog house. It's well-thought and ergonomic design ensures your pet has a safe shelter to hide in case of unfavorable weather conditions. It's spacious inside to allow your four-pawed pal feel absolutely comfy when taking a nap. Outside stairs will take your pet to the rooftop that serves as a deck, where your canine could bask in the sun peacefully or observe their property from above. However, get ready that it might be harder to put this dog house together because of the advanced construction.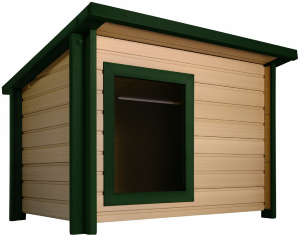 ecoFLEX Rustic Lodge Style Dog House
Check price
Give your pooch more comfort when they stay outdoors. This canine home will shield your pet when it's hot, cold, rainy, snowy outside, providing the desired level of warmth, ventilation, and dryness, no matter what weather is outside. You can easily paint this house to customize its look. Its construction is ridiculously easy to put together. If you hesitate, you can always refer to instruction to get to know how to do it right. Most dog owners are satisfied with their purchase. However, one user says that rain comes in somehow, and his dog is not protected from severe weather conditions in this house.
TOP 3 indoor wooden dog house
What's the best indoor dog house? It depends on your needs. That's why there are several types of dog houses for indoor use.
Types of indoor wood dog house
Classic — looks like an ordinary dog house, could be used both for indoors and outdoors
Double-story — adds more space for your pet featuring extra room on the rooftop
Crate — comes in metal and wood, plastic and has a door to keep your pet safely in when there's no one around to supervise your canine
Portable — allows for safe transportation of your canine, but could also be used at home for security purposes
Here are our top wooden dog houses for indoor use.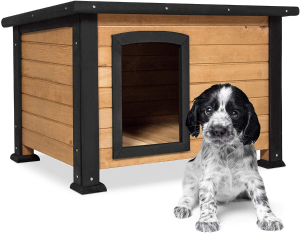 Best Choice Products Wooden Log Cabin Dog House
Check price
Your pet needs their own corner in your apartment to feel at ease. Upgrade your canine's space with this wooden shelter. Because of its miniature dimensions, it will fit in your dwelling perfectly. This model has an open-up roof with locking hinges for easier cleaning or bedding. This is a pawsome place your pet will love. You'll enjoy it as well because it takes about 30 minutes to assemble it. Buyers say that they set up this construction intuitively, but in case you have hesitation, you can always check a detailed instruction that goes with this product.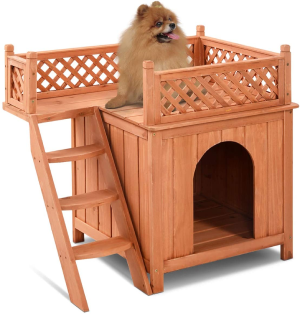 Giantex Pet Dog House, Wooden Dog Room Shelter with Stairs
Check price
Do you want to upgrade your canine's place with a new and cozy dog house? Consider this one with a balcony and spacious room to please your pet with a home they could be proud of. This pet house will allow your canine to find a compromise between active and passive rest. They could easily climb the ladder to get to the spacious porch for lying around and chilling. Or have a nap inside their comfy room, which you could complement with a warm and soft blanket. The stairs are told not to be wide enough to allow a medium-sized dog to use them, so keep this in mind.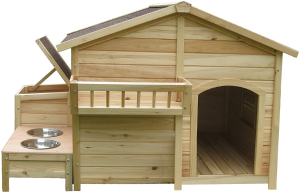 Houses & Paws Country Charm Dog House
Check price
If you don't have enough space to keep all the toys, food, and water bowls of your pet, but would like to create a cozy corner, this dog house might be a sound solution. It combines a room for your pet to get some rest or take a nap after an active pastime. You can also store toys or treats in a side box and shelf. Besides, the construction is upgraded with water and food bowls to give your pet access to everything their soul desires. It is said to be easy to assemble with a screwdriver. But one buyer claims that the construction is not that sturdy, and his dog broke some pieces.
TOP 3 large wooden dog kennel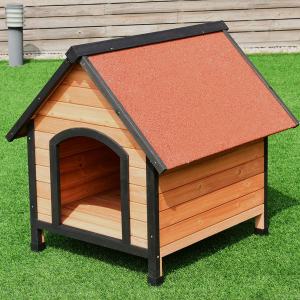 Tangkula Pet Dog House
Check price
Would you like your canine's shelter to be cozy and spacious? This wooden house by Tangkula is definitely worth your attention. It's designed to fit even a beast like a Rottweiler and still allowing some room for their convenience. With adjustable house feet, you can place the house on any surface, even an uneven one. This model has a raised floor to protect the house when the water levels come up or if the ground is cold or wet. The outer surface of the kennel is dyed with water-based paint, which is completely safe and dog-friendly. Buyers say that this dog house model looks great in the backyard contrasting with grass and garden.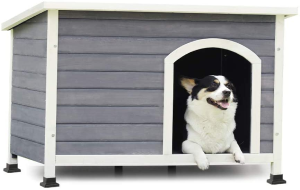 A4Pet Outdoor Wooden Dog House
Check price
You'll never go wrong choosing this wooden dog shelter for your pooch. It is made to fit the doggy up to 130 lbs, while allowing enough space for comfortable residence. Being equipped with a hinged and slanted roof, the kennel is easy to clean or get blankets in and out as well as keeps the rain off the roof ensuring your pet is always dry. The house feet have plastic caps to weather wet or dirt. Several pet owners say that this construction is slightly flimsy and lacks holes for assembling the kennel.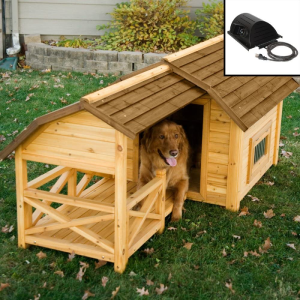 Wooden Barn Dog House for Large & Extra Large Dogs
Check price
Pamper your giant with a house they'll truly love. This wooden dog house is the mansion in the world of canine's dwellings. A covered porch allows your pet to chill out outside, staying in the shade even when it's sunny. Spacious interior with a window ensures your pooch could comfortably rest inside, having enough fresh air. This house goes with a heater to keep your pet warm. With this wooden home, your mutt could survive the severest winter.
So, what is the best cheap wood dog house?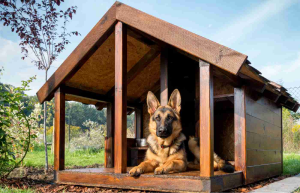 Petsfit Dog House, Dog House Outdoor is your perfect choice if you need a classy-style dog house for your pet. It provides enough room for your canine to rest at night or after active pastime comfortably.
Get this Best Choice Products Wooden Log Cabin Dog House for indoor use. It's very compact and won't take much space, but it will provide your canine with a place for privacy.
Consider this Wooden Barn Dog House for Large & Extra Large Dogs to create better living conditions for your beast. It has a convenient room and roofed porch to ensure your pet controls the situation and can keep an eye on what's going on around.
Since extra-large dogs like Great Danes, Bull Mastiffs, and similar need dwellings that would stand up to their weight, height, and overall size, there several types of dog kennels you can choose between.
Wood extra large dog houses - what types are available?
Classic — consists only of a room for your dog
Dog house with a covered porch
Dog kennel with a metal cage
Dog dwelling with a space for exercises
Double door canine homes
A wooden apartment is a good place for your pooch to hang out. There's a great variety of options these days — you can choose a classic design or opt for upgraded models like with porches, balconies, doors, windows, etc. for added comfort of your precious canine. But regardless of the style, all dog kennels are made to serve one purpose — provide the shelter your pet needs. So take care of your canine and get them a comfortable dog house, which they could proudly call their home.
Which dog house will work better for your dog: a wooden or plastic one?
Both options have their pros and cons. For example, a wooden dog kennel is known for good insulation from heat and cold. Besides, it looks more appealing and could be customized through DIY. It is durable and stable, especially when treated with substances to be protected from water, decay, insects, and pests. But it might be heavy and hard to assemble. A wooden dog house needs special treatment and should be maintained regularly. Because of the construction defects, it might not be completely waterproof, allowing rain or snow to come in.
Plastic is lightweight and is more resistant to water or unfavorable weather conditions. It's easy to clean and comes pre-assembled, taking away all your set-up related headaches. However, it comes in limited styles, making it impossible to customize the canine's dwelling for added comfort. It also gets stinky if exposed to water too often and might crack or fade. Plastic dog kennels don't provide sufficient insulation against heat and cold.
What is the best wood to use for a dog house?
Literally, you can build or buy a dog house from any wood. You can choose between softwoods like fir, cedar, redwood, and pine. They are resistant to moisture, durable, and are less expensive than hardwood. Hardwoods like ash, cherry, birch, mahogany, and others look great due to the variety of patterns and are used by professional woodworkers. But the dog house crafted of hardwoods will cost you a penny and will not last long if left outdoors. So if you are willing to get an affordable and sturdy house for your canine, choose between options made of softwoods.
How to take care of a wooden dog house?
Clean your dog's house regularly. Make sure you're spring-cleaning it at least once a month. But get ready to do it more frequently during wet seasons or cold weather. Soak all canine's toys stored there in warm soapy water. Remove the bedding, wash it, and replace it with a new one. Use a stout brush to clean the dog kennel inside and out. Soak it in hot soapy water and scour the pet's dwelling thoroughly. Rinse the whole construction with clean water. Disinfect the dog house and let it dry naturally before you put fresh bedding inside. Always inspect the whole construction for defects or broken pieces.
How do you waterproof a wooden dog house?
There're plenty of ways to keep water out in case of rain. You can seal the roof with tar paper to prevent water from getting in the dog house. You might use liquid rubber as an alternative for the above-mentioned option. In order to waterproof the walls, use vinyl siding to protect outside walls from wet or water.
How to make a wooden dog house warm in winter?
To winterize the dog house and make it a cozy place, keep it away from the ground. Commercial dog houses have special feet to create a layer of air between the ground and the floor of the house. Use house wrap over the side walls and attach it with staples or special sealing tape to stop moisture and cold from entering the kennel. You'll be able to remove this covering for warm weather. Insulate the dog house inside (the walls and floor) with rigid foam sheets or foil-faced insulation. Don't forget to protect the doorway entry with a vinyl or carpet flap.