The Best Dry Dog Food for Large Breeds - My Top 10 Picks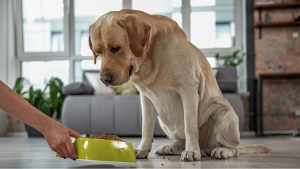 It feels like only yesterday you picked up a tiny puppy at the shelter and brought him home, but now he's taking over the couch and your whole house. That doesn't mean your favorite labrador or Great Dane does not require your care and attention any more. Luckily, it's easy to make sure your loyal four-legged friend stays by your side for a decade and longer. All he needs is a quality diet, and with my help, you'll find the perfect dry food. I've gone over dozens of options and am now ready to present the ten winners, in no particular order.
What Makes the Best Dry Dog Food for Large Dogs?
First, let's unpack what makes this group of kibble different from others. When you look at a tiny chihuahua and a playful golden retriever, it seems logical the bigger dog needs more food. However, when we take a closer look, things get complicated.
Large and giant breeds do not have the benefit of a lightning-fast metabolism small dogs enjoy. That means that their caloric needs are lower. Your lab might need 20 to 30 calories per pound of weight, while a teacup poodle might require up to 40 calories per pound. Therefore, large dog food is usually less calorie-dense. The manufacturers may cheat a bit and use the same formula for all breeds, but in this case, you have to be very careful with portion size to prevent obesity and the health issues that follow it.
Large dogs are also more prone to joint issues, so many brands include supplements to avoid them. Look for calcium, phosphorus, chondroitin, and glucosamine on the ingredients list if your particular breed is more prone to bone and joint diseases.
Finally, proper kibble size is also an issue when it comes to large breeds. If the pieces are too small, the dog might swallow without chewing, leading to faster eating and increased appetite. Moreover, small particles, especially when combined with water, may lead to bloating.
Here Are Top 10 Best Dry Dog Food for Giant Breeds in 2020
With basics out of the way, let's take a quick sneak peek at my picks before we dive into the specifics of every option. I've analyzed the ingredients lists, compared nutritional facts, and scoured the web for genuine reviews to select these ten products. I've tested some, though not all, so you're welcome to share your experience and add useful info if you feel like I've missed something important about the best dry dog food for big dogs.
Earthborn Holistic Large Breed Grain-free Dry Dog Food
Check price
This grain-free formula is designed for dogs over 50 pounds at maturity and relies on a balanced combination of chicken meal protein and fruit- and veggie-based carbs to provide a wholesome diet. The price is somewhat overinflated and might be a bit of a concern, especially if you have two or more large dogs.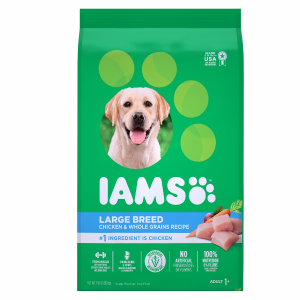 A much more popular option is affordable while still relying on premium ingredients. Farm-raised chicken is prime on the list of ingredients, and whole grains serve as a source of healthy fiber and carbs. Still, corn and barley may lead to additional gassiness if your pooch has a sensitive bowel.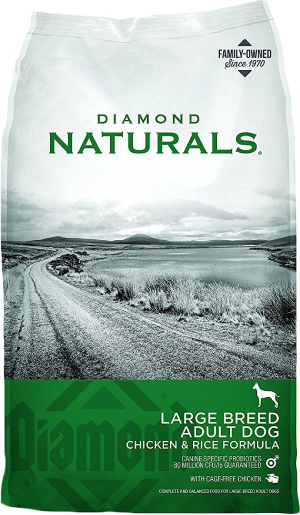 Diamond Naturals Dry Food For Adult Dog
Check price
Produced by a smaller family-owned company, this kibble is free of artificial preservatives and flavors. It relies on a traditional combination of chicken and whole brown rice to deliver maximum nutritional value. Unfortunately, the lack of fillers and synthetic flavors might make this variety less appetizing for your pets.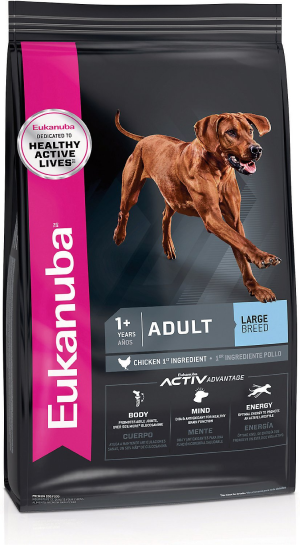 Eukanuba Large Breed Adult Dry Dog Food
Check price
Chicken and corn make up the majority of this blend that maxes at 23% of protein and 13% of fat. The kibble includes DHA and vitamin E to protect brain function and other supplements to ensure joint health. The taste might not entice picky eaters, so start with a small batch before committing to auto-shipping.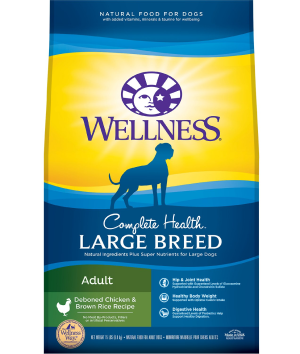 Wellness Complete Health Dry Dog Food
Check price
A well-balanced formula is full of healthy protein and complex carbs that provide energy for a full day. Yucca extract is meant to reduce the odor of the feces, but some buyers note the kibble produces soft stool, so that's something you should look out for.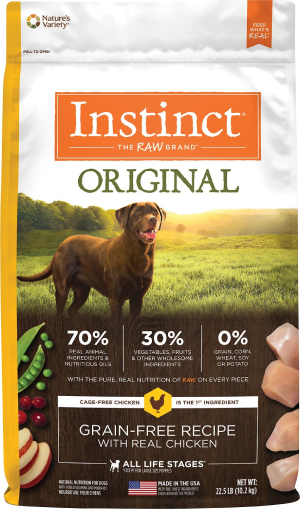 Instinct Original Dry Dog Food
Check price
As one of the most expensive options on my list, it's also chock-full of protein thanks to freed-dried chicken and chicken meal. The formula is also grain-free, perfect for sensitive tummies. Still, you should be careful when switching from other kibble options to prevent digestive troubles.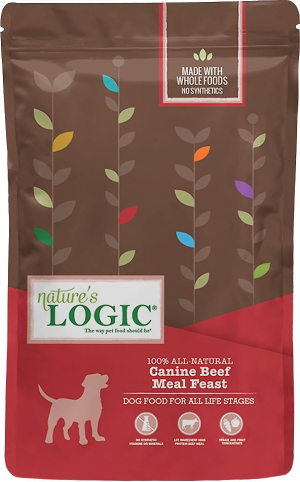 Nature's Logic Dry Dog Food
Check price
100% natural kibble is significantly more expensive than other varieties, as it does not rely on chemicals, including synthetic vitamins and amino acids. The protein content is through the roof, but small kibble size might cause problems for larger breeds, as this product is aimed at dogs of all sizes.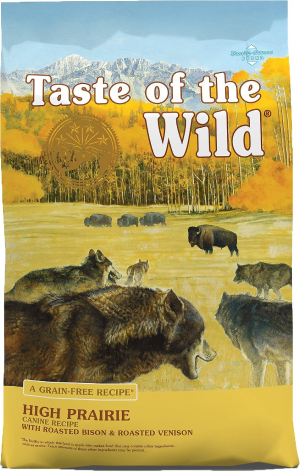 One of the most popular options on the market includes bison, lamb, venison, and other protein sources coupled with healthy carbs with zero grains in sight. The addition of roasted and smoked ingredients makes it delicious even for picky eaters.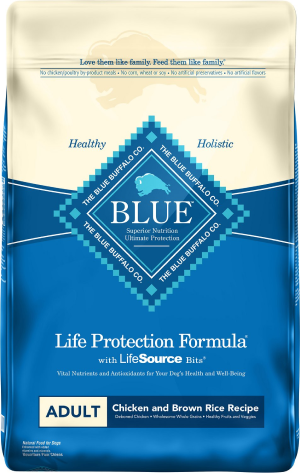 Blue Buffalo Life Protection Dry Dog Food
Check price
Yet another successful take on a classical recipe combining brown rice and chicken for a balanced mixture of protein and carbohydrates. This kibble is free of wheat and soy, as well as poultry by-products meal, and is universally loved by large dogs.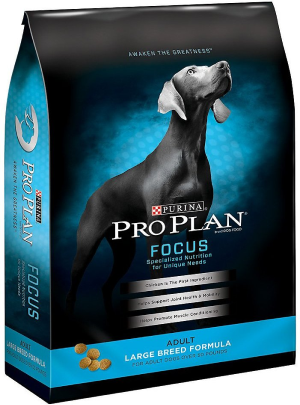 Purina Pro Plan Focus Dry Dog Food
Check price
Formulated to prevent digestive issues, this kibble uses salmon as the main protein source, while barley and rice are among the core carbs. You'll forget about your dog's sensitive stomach, as there are no synthetic flavors, colors, and the food is free of corn, wheat, and soy.
TOP 3 Best High-protein Dog Food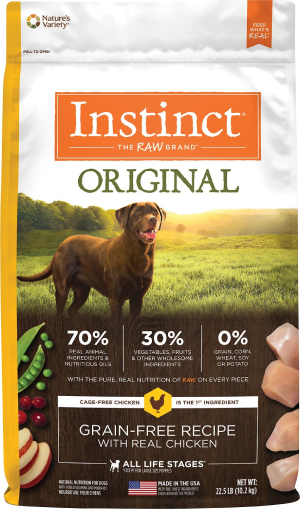 Instinct Original Dry Dog Food
Check price
At 37% of protein, Instinct Original Grain-free Chicken Recipe is the top performer on my shortlist. It's no surprise, as 70% of the contents are animal-based ingredients and healthy oils. While 30% of the ingredients list is made of carbohydrates, there are no grains, soy, or potatoes. Peas and tapioca are healthier trade-ins for those. While the kibble looks great on paper, some dogs deal with digestive troubles after switching. The price tag might also be a bit over the top but is understandable considering the ingredients list.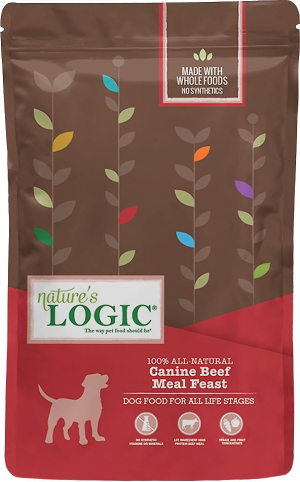 Nature's Logic Dry Dog Food
Check price
Nature's Logic Canine Beef Meal Feast is the most extravagant option here, but it's 100% natural, so you get what you pay for. The kibble contains 34% of protein and 15% of fat, enough for the most energetic of breeds. With no synthetic components, including vitamins and amino acids, it's one of the healthiest options on the market. However, it's a one-size-fits-all solution, so kibble size might not be optimal for larger breeds, as they tend to swallow without chewing, or the pieces get stuck to the gums. Still, it's worth a try.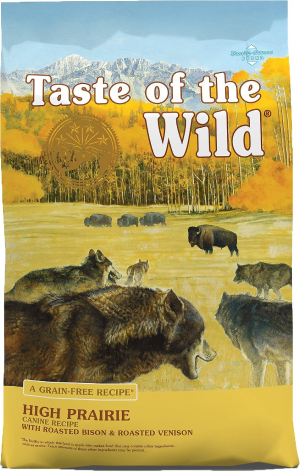 Taste Of The Wild Dry Dog Food
Check price
The lowest in this section, but still respectable, protein content of 32% makes Taste Of The Wild High Prairie Canine Recipe my personal fave. It's one of the richest and most multifaceted formulas I've seen. Bison, lamb, roasted venison, beef - these are just a few of the protein sources present. Sweet potatoes and peas are used in place of grains and soy, making this a perfect option for breeds that are prone to gassiness. The taste is also superb, as even picky eaters tend to love this formula.
TOP 3 Best-tasting Dog Food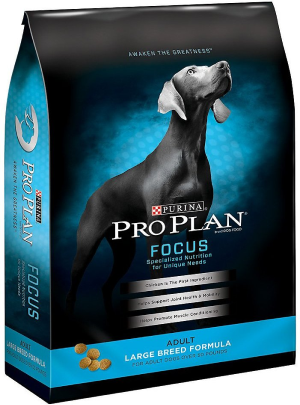 Purina Pro Plan Focus Dry Dog Food
Check price
It's no wonder so many dogs love Purina Pro Plan Focus Salmon & Rice Formula, as instead of chicken, it relies on salmon as the primary protein source. That's what makes it a delicious and safe choice. While poultry may cause allergies and other adverse reactions, this recipe is perfect for dogs with sensitive skin and tummies. Barley and rice are renowned among slow carbs that release energy over a longer period. Besides, the formula does not include soy, wheat, corn, synthetic colors and flavor additives. It might just be the best dog food WITH grains. This category has seen a recent increase in popularity caused by the FDA's investigation into grain-free formulas with legumes and beans and their relation to dilated cardiomyopathy (DCM) in canines.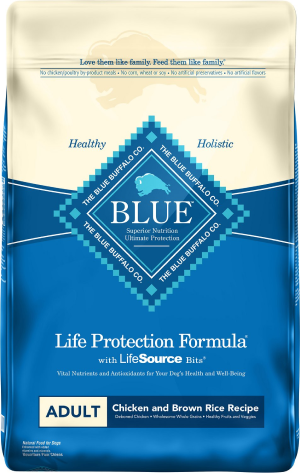 It seems like there's nothing new or original to Blue Buffalo Life Protection Chicken and Brown Rice Recipe, yet it's popularity means the brand managed to find the right balance between taste and nutritious value. With no poultry by-product meals, this formula relies on quality protein, slow-release carbs, and powerful antioxidants to deliver both superb flavor and health benefits for large breeds. Remember, this is an adult-specific formula, so it's not suited for either senior dogs or puppies.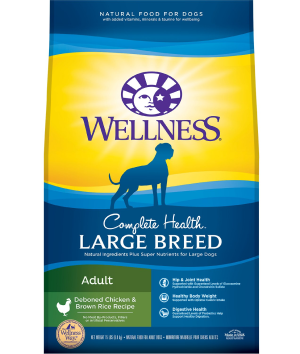 Wellness Complete Health Dry Dog Food
Check price
Wellness Complete Health Deboned Chicken and Oatmeal Recipe relies on a holistic approach to canine health and combines whitefish and chicken meat with safe, complex carbs to provide both energy and building blocks for muscle. The formula includes spinach, flaxseed, and blueberries to support the immune system and promote longevity, as well as shiny fur. The only complaint I managed to find was soft stool among some dogs that switched to this food. While it might be an individual reaction, you should always pay attention to your dog's feces when trying out new kibble.
Best-tasting Dry Dog Food Should Have These Ingredients
High-quality protein sources besides chicken, such as salmon, beef, fish, and more.
Animal fat and sunflower oil to make dry food more palatable.
Salt in small quantities to intensify the flavor of other ingredients.
Sweet fruit and veggies to provide fiber and immediate energy boost.
Natural allergen-free flavors that make switching to new kibble easier.
TOP 3 High-energy Dog Foods
Earthborn Holistic Large Breed Grain-free Dry Dog Food
Check price
Earthborn Holistic Large Breed Grain-free kibble is as delicious as it is filling. With 26% of protein, 5% of fiber, and 13% of fat, it's a holistic meal for large canines that relies on veggies and fruits in place of grains. It's gluten-free, which is vital for dogs with sensitive tummies. And a combination of joint health supplements along with L-carnitine ensure your four-legged friend remains in top shape for years to come. The only downside is the price tag that might be a little too high for those who own two or more large dogs.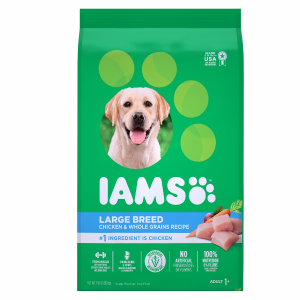 Iams Proactive Health Adult Large Breed Dry Dog Food
Check price
Iams Proactive Health Chicken and Whole Grains Recipe might not be as glamorous as other entries on my list. Still, it's a reliable brand with a solid reputation, positive reviews, and clean, quality ingredients. Whole grains increase crude fiber content to 5%, ensuring healthy digestion, though it might also promote increased gassiness in dogs with delicate bowels. Still, grains are the ultimate energy source for your large furry friend, ensuring he can enjoy even the most tiring activities, like entertaining a bunch of hyper kids.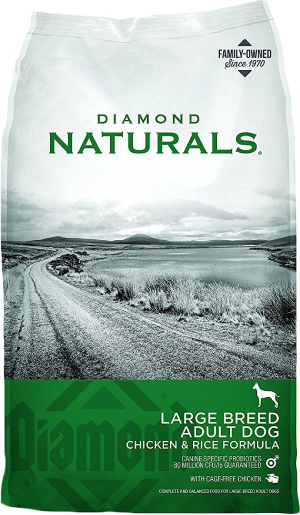 Diamond Naturals Large Breed Chicken and Rice Formula uses a balanced 23% to 13% proportion of protein and fat without relying on synthetic additives to intensify the flavor. While not grain-free, the kibble relies on the safest options, including brown and white rice and barley. A laundry list of vitamins, minerals, and antioxidants ensure long-term health and peak energy levels for large canines. However, some buyers complain about the lack of interest in this food, which might be a result of relying on natural flavors.
The Verdict. Could Dried Food for Dogs Be Healthy and Tasty?
It sure can! With these outstanding ten options, it's nearly impossible to choose the best. Still, I've tried to identify my personal favorites in each category.
Taste Of The Wild High Prairie Canine Recipe is the best among high-protein formulas with a rich assortment of protein sources, no grains, and delicious flavor loved by most breeds.
Purina Pro Plan Focus Salmon & Rice Formula is the top choice among best-tasting recipes, as it relies on allergen-free ingredients and boasts outstanding flavor without synthetic flavors or components that might lead to digestive issues.
Earthborn Holistic Large Breed Grain-free formula is the best among high-energy options with its high protein and medium fat content that's supplemented with joint-centric additives and L-carnitine for weight management.
Let's Select the Best Dry Dog Food for Newfoundlands
The following checklist applies to all large and giant breeds. Their perfect food should
Contain 20% to 40% of protein sourced from poultry or meat
Include joint health supplements, such as glucosamine and chondroitin
Rely on complex carbohydrates that produce energy over a long period
Be free of synthetic preservatives, colors, and flavors that might cause allergies
Come in larger kibble size that's more comfortable to chew for big dogs.
I hope this extensive list of large breed food options helps you find the perfect kibble for your lovely four-legged friend. Pay attention to his needs and preferences, and you won't waste your money!
Should I feed my large dog dry food only?
Dry food is great because it massages canine's gums, contributes to teeth cleaning, and prolongs the mealtime. But feeding your large dog with kibble only is not gratifying enough. It's less fragrant and more processed, which means it contains fewer nutrients in comparison with wet wood. Mixing wet and dry food is more beneficial than choosing only one option.
Do large dog breeds need special dog food?
In general, dog food designed for large breeds follows the same nutrition principles with a few significant exceptions. Since large canines are more prone to orthopedic diseases, their meals should be filled with calcium and glucosamine to support bones and joints. They have a slow metabolism and do not need calorie-dense food for healthy living.
What to look for in dry dog food for large dogs?
Make sure the kibble you are going to buy is low or moderate in calories, but still provides your pooch with nutrients like fats, proteins, and vitamins in the sufficient amount. Check the source of protein and give preference to the brand that uses meat and stays away from byproducts. Pick dry food with large kibble size to avoid bloating.
Is dry dog food better than wet dog food for teeth?
One of the advantages of kibble over canned food is that it supports oral hygiene. Crunchy kibble works great for reducing tartar and plaque from the canine's teeth. It also massages gums to keep the oral cavity healthier.
How often should I feed my dog?
Most experts recommend feeding your pooch twice a day, in the morning and in the evening. However, puppies require more meals. Puppies under 5 months should be fed 3 times a day to get enough calories required for active growth.