The Best Wet Puppy Food - My TOP 10 PICKS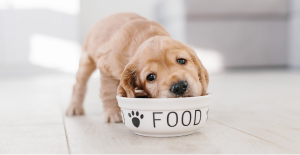 Are you welcoming a brand new puppy in your family and would like to treat them with the best canned dog food for puppies? Or thinking of a better nutrition option for your young pet? Either way, you want to be sure you're making a smart choice because you realize that it's more than just keeping them well-fed. The quality of the food you select for their daily ration defines their welfare and longevity in the long run.
With that in mind, we researched and analyzed canned canine meals for pups based on the ingredients and customer reviews. In this article, you'll get to know the best wet food for puppies depending on the breed size and gustatory preferences.
Best soft puppy food: Is it a good fit for your tail-wagger?
Let's go over whether soft meals should be a part of your canine's menu.
First and foremost, good canned food is rich in nutrients. Soft dog meals manufacturers designed formulas to cover nearly every canine diet: organic, weight-management, grain-free, gluten-free, and more. So you can pick the best wet dog food for puppies to meet your doggy's special needs.
Moreover, canned food is easier to digest and chew. Since it's smooth, soft and has a high moisture content, it's probably the best pick for a pup with immature teeth or a sensitive stomach.
Thanks to the high content of protein and fewer carbs, a soft puppy delicacy helps your pet stay full and satisfied, consuming fewer calories. This promotes weight loss and muscle maintenance, which is a significant perk for dog owners who have a desire to help their overweight four-pawed friends get into a better shape.
However, canned canine foods are more expensive and can get spoilt quickly if left out. In case you have a messy eater, feeding your mutt with these meals might be a nerve-wracking experience if you are not in the mood of constantly cleaning the eating space from leftovers.
Anyway, weigh the pros and cons carefully. Or better ask your vet about the best option for your pup and daily portions.
In case you are convinced that wet food should be part of your puppy's ration, consider top 10 picks available on the market these days.
Here are top 10 wet puppy foods in 2020: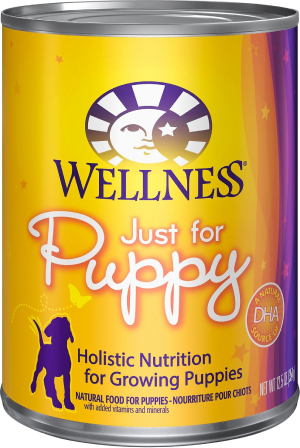 Wellness Complete Health Just for Puppy Canned Dog Food
Check price
Are you racking your brain about what food to pick to pamper your pup with a delicious yet nutritious meal? This Wellness food will satisfy your picky eater. It is a perfect mix of chicken, veggies, fruits, vitamins, and other nutrients to ensure your fluffy bundle of joy grows into a healthy and well-built dog.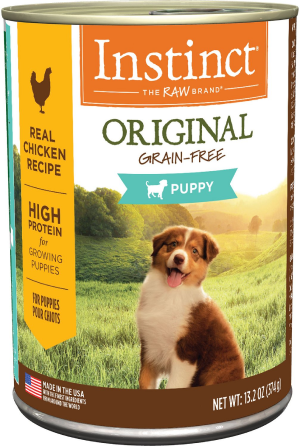 Instinct Original Grain Free Recipe Natural Wet Canned
Check price
If you are in search of soupy meals for your mutt, this Instinct canned food is a perfect match. It's free of preservatives, soy, and other not-so-desirable ingredients, while loaded with cage-free chicken, beef liver, salmon, and other nutrients to help your pup become a strong mutt.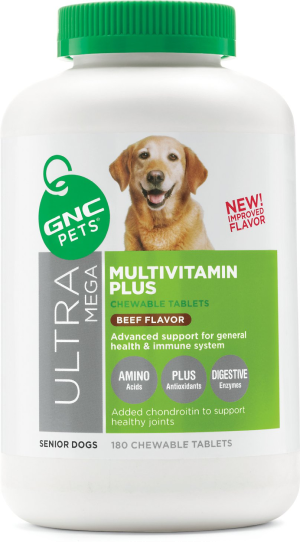 Chicken Soup for the Soul Dog Food Canned Puppy
Check price
Would you like to get a clean plate after every dog's meal so that you avoid your "favorite" washing-dog-dishes time? Feed your pooch with this delicious and healthy option. It has a high protein content derived from chicken, turkey, and chicken liver to ensure your pup has lean muscle and healthy digestion.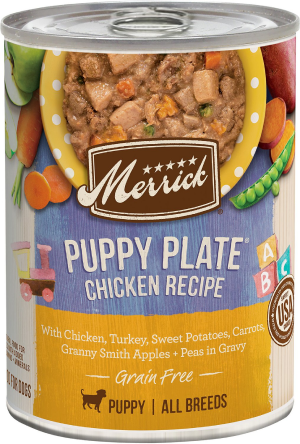 Merrick Grain-Free Puppy Plate Beef Recipe Canned Dog Food Beef
Check price
Excite your puppy with incredible smells and sophisticated taste of this Merrick pooch food. It has full chunks of chicken, entire peas and cubes of carrot, apples, potatoes to provide complete and balanced nutrition. Be sure, your doggy will lick the last bits off the plate and be begging for more.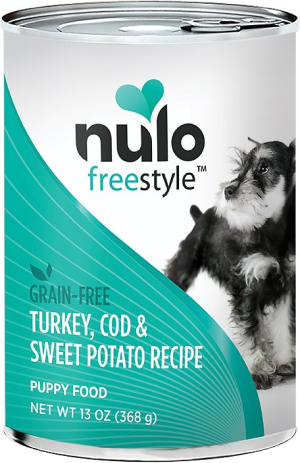 Nulo Freestyle Wet Puppy Food Feeding Guide
Check price
If you want to feed your young dog with more natural ingredients, this Nulo meal is on the list. Due to the grain-free and rich-protein formula, this is the top pick to empower your canine with the level of energy required to live an active and happy doggy life.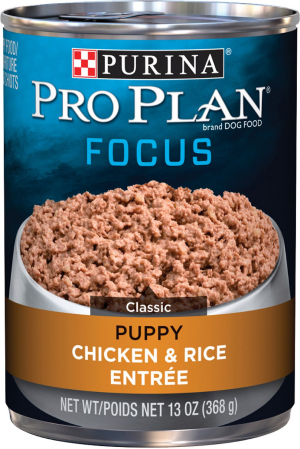 Purina Pro Plan Focus Puppy Classic Chicken & Rice Entree Canned Dog Food
Check price
96% of dog owners recommend this Purina dish. This brand holds to high standards to provide tail-waggers with the best meals. That's why this nutrient- and Omega-6-rich wet food is perfect for developing puppies and growing their muscles.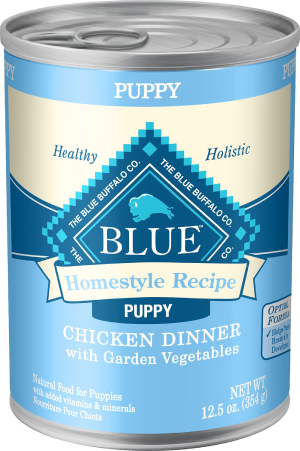 Blue Buffalo Homestyle Recipe Puppy Chicken Dinner with Garden Vegetables Canned Dog Food
Check price
In case you are in quest of quality yet affordable wet entrees for your pup, try this Blue Buffalo dinner. Being rich in high-quality protein received from real chicken and enhanced with wholesome fruits, vegetables, vitamins, and minerals, this pate-style puppy food will provide your pet with the energy to run, jump, roll throughout the day.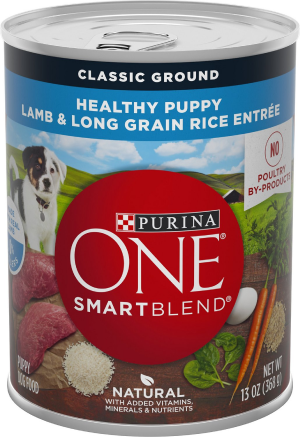 Purina ONE SmartBlend Classic Ground Healthy Puppy Lamb & Long Grain Rice Entree Canned Dog Food
Check price
Help your puppy grow into a bushy-tailed dog without breaking the bank. This is one of the most affordable options you can find on the market in 2020. It is made of good ingredients like real lamb and chicken and then boosted with minerals, vitamins, and antioxidants to support a young growing body. However, some dog breeders say that their pets refused to eat this meal, so keep that in mind.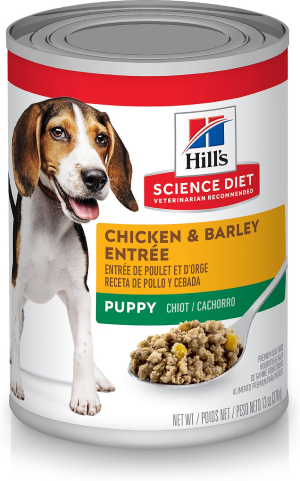 Hill's Science Diet Puppy Chicken & Barley Entree Canned Dog Food
Check price
If you would like to feed your buddy with precisely balanced and tasty dog dishes, Hill's Science Diet Puppy Canned Dog Food is a bargain. Due to the carefully designed formula and minced texture, it promotes gentle digestion and healthy pup's development. However, it is not recommended for obese or obese-prone puppies.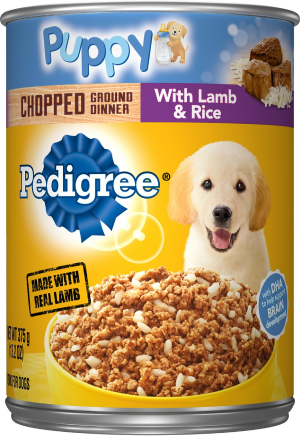 Pedigree Puppy Chopped Ground Dinner With Lamb & Rice Canned Dog Food
Check price
This formula is great to be mixed up with kibble to make meals even more exciting and delicious. But you can also serve it alone, your dog will love its soft texture anyway. Due to the balanced recipe, your pup gets all nutrients they need to grow into an adult dog with a shiny coat and lean muscle.
TOP 3 wet puppy food for small breed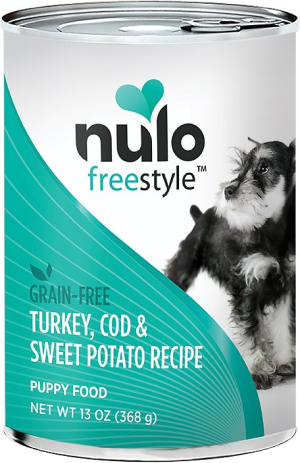 Nulo Freestyle Wet Puppy Food Feeding Guide
Check price
This low-glycemic and grain-free Nulo meal with turkey, cod, and potato is great for pups of small breeds with sensitive stomachs. This one takes all the guesswork out of designing a balanced and nutritious diet for your small-sized canine. Being rich in protein, calcium, and phosphorus, it's great for muscle and bone growth. This calorie-dense food helps normalize blood sugar levels and metabolic rates to prevent hypoglycemia. All your puppy needs to become a healthy mature dog.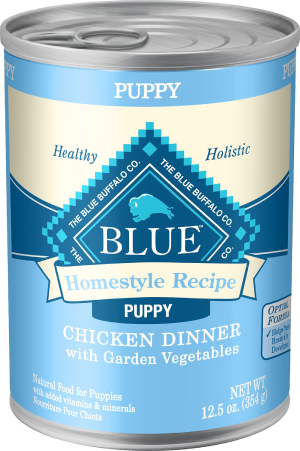 Blue Buffalo Homestyle Recipe Puppy Chicken Dinner with Garden Vegetables Canned Dog Food
Check price
Your small-breed pup will love this Blue Buffalo formula. It is crafted to meet the favorable fat-to-protein ratios, which is so important for canines of small breeds. Containing first-rate chicken protein advanced with garden fruits and vegetables, this meal provides your pooch with the right amount of calories, vitamins, and minerals to stay in good and healthy shape. It doesn't contain any by-products, soy, preservatives, and other ingredients that might harm your furry friend. The formula is grain-free, so they don't use wheat as a thickening agent.
TOP 3 wet puppy food for large breeds
Before I dwell on the list of my finest picks, let me explain what to pay attention to when choosing healthy meals for your puppy-giant.
Large breed puppy wet food recommendations
Good wet food for puppies has a high level of protein (5.5% or higher) to cover nutritional needs
Canned dishes for large breeds should contain more calcium (1.5% and more) to keep bones in good condition
Meals for large and giant breeds must be easy to digest to avoid vomiting, and other digestive problems
Keep these recommendations in mind when purchasing canned food for your pet. Meanwhile, I've picked top 3 wet food for your large-breed canine to make the choice a little bit easier for you.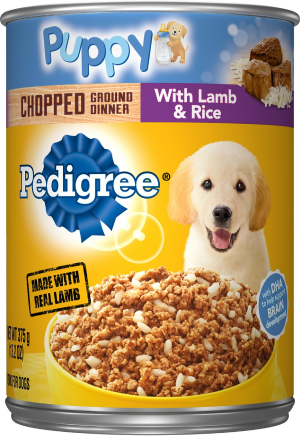 Pedigree Puppy Chopped Ground Dinner With Lamb & Rice Canned Dog Food
Check price
Boost your puppy's growth with this diet food for large dogs. Being formulated without artificial additives or preservatives, it's protein- and calcium-rich to keep your pet's muscles, teeth, and bones in perfect shape. It's made of real chicken with barley to ensure your giant has enough energy for spending an active pastime. Because of the barley, your pooch will feel full and satisfied after his food intake. Chicken contributes to weight management so that your pet doesn't gain extra pounds when being fed with this canned food.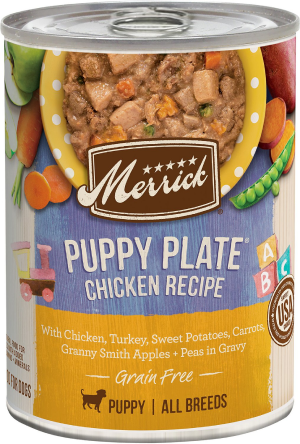 Merrick Grain-Free Puppy Plate Beef Recipe Canned Dog Food Beef
Check price
Treat your fluffy giant with Merrick grain-free canned snacks with beef flavor. The manufacturer uses deboned meat, peas, meat broth to make up a high protein level. Furthermore, it is filled with essential vitamins and nutrients your pet needs to grow. Due to the well-balanced formula, daily food intakes become not only exciting. Your pooch gets minerals and elements for bone and teeth health, metabolic support, and overall well-being.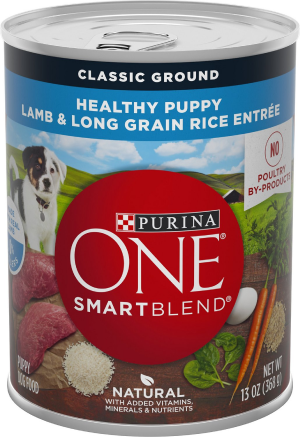 Purina ONE SmartBlend Classic Ground Healthy Puppy Lamb & Long Grain Rice Entree Canned Dog Food
Check price
You need more food than an average dog handler to feed your dog. It should also be more nutritious than meals for small or medium-sized canines. Purina One crafted the recipe with real lamb and long rice to please your avid eater. This entree has high levels of protein and calcium to deliver the building material for muscles and bones. It also keeps your pooch full for a longer period of time because of grain rice. Besides, this recipe is rich in omega fatty acids for the glossy look of canine's fur.
TOP 3 grain free wet puppy food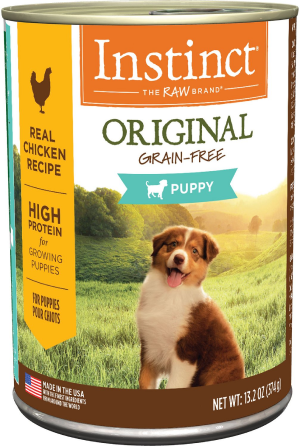 Instinct Original Grain Free Recipe Natural Wet Canned
Check price
Your pet will enjoy this Instinct natural food for breakfast, lunch, or dinner, either mixed with kibble or served as it is. Being made of cage-free chicken, chicken broth, beef liver, salmon, peas, vegetables, it provides your dog with the norm of daily calories and vitamins required for overall well-being. Because it is rich in protein, this food encourages the growth and maintenance of lean muscle mass. Besides, it is a great option to keep your pooch fit since it's free of grain. Your pup will love the flavor and loaf texture of this toothsome meal.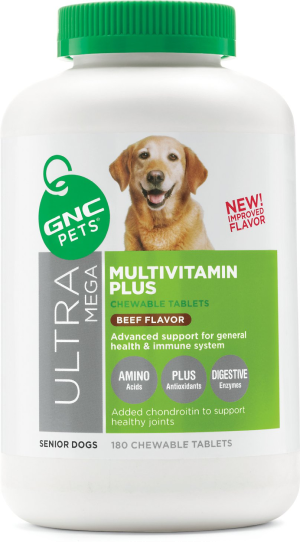 Chicken Doup for the Soul Dog Food Canned Puppy
Check price
If you think that grain shouldn't be a part of your canine's food, consider this yummy dog snack. The formula includes chicken, turkey, and duck to ensure your doggie enjoys their daily meals. Your pup will get enough energy to play around and enjoy their life. This precisely balanced recipe with the fewest number of carbohydrates mitigates the chances that your pooch will gain weight when switched to a new wet food. Feeding your furry friend with this food is the easiest way to keep them healthy and happy.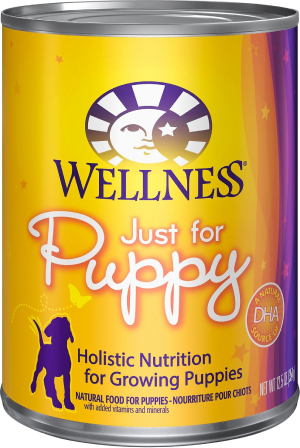 Wellness Complete Health Just for Puppy Canned Dog Food
Check price
This is your go-to choice when you're looking for a balanced and tasty meal for your canine. It is made of chicken and salmon to reach a high protein level, which allows you to control the dog's weight and build muscles. It is loaded with fruits, vegetables, vitamins, minerals to support skin, coat, bones. Thus, it covers all critical nutritional elements that are important for the healthy growth of your furry friend. These meals are easy to digest and do not cause any issues within the majority of dogs.
The verdict: What is the best wet puppy food?
Canned food removes all the guesswork you might have when creating a balanced menu for your beloved puppy. Since the manufacturers have already designed and cooked the recipe, you don't need to worry about the right amount of protein, fats, vitamins in the ration of your canine.
However, it is easy to miscalculate and buy low-quality goods that do harm to your puppy rather than support in the period of growth.
That is why let me give you my final tips on how to make the right choice.
How to choose good wet food for puppies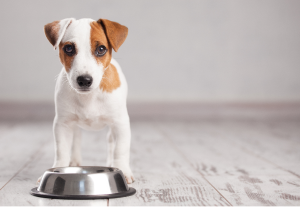 Look for AAFCO-approved food only.
Pick the food that has meat as the first ingredient.
Check for the sources of proteins and fats (avoid by-products).
Prefer food with vegetables and whole grain.
Make sure it doesn't contain ingredients your dog is allergic to.
Look at the expiration date and check whether the dish is fresh.
As you've learned the basic things for purchasing high-quality wet canine food for your fluffy friend, let me sum everything up with my top picks.
My choice for small breed — Blue Buffalo Homestyle Recipe Puppy Chicken Dinner with Garden Vegetables Canned Dog Food
You want your small breed puppy to get the best food possible. This canned dog meal meets AAFCO requirements and provides your canine with essential elements to live a healthy and joyful life.
I recommend this for large breeds — Merrick Grain-Free Puppy Plate Beef Recipe Canned Dog Food Beef
Support your puppy while they grow into a beast. This recipe developed by Merrick gives your pet all they need to be healthy and strong.
The best grain free option — Wellness Complete Health Just for Puppy Canned Dog Food
This balanced protein-rich and grain-free formula meets the Nutrient Profiles criteria. It will provide your canine with vitamins, nutrients they need to be a happy and healthy family member.
Introducing wet food to your puppy's diet is a good idea. So I hope you will successfully implement it following my recommendations and tips. Good luck.
Is it good to feed my puppy with wet food?
Wet food is probably the best choice for puppies. First and foremost, it contains more water; thus, it is more palatable for pups. Besides, it is less processed and contains more nutritions, especially proteins. Picky eaters prefer wet food to kibble because of its delicate consistency and smell. However, if you have a messy eater, you won't enjoy this option. Wet food also spoils fast, so mind to put leftovers to the fridge.
Can I mix wet and dry puppy food?
It's absolutely OK to mix wet and dry dog food as long as you take your dog's health, nutrition needs, and calorie intake into consideration. Of course, this type of diet improves palatability, helps manage weight, and works as a great cost-effective feeding option. But as your pet should stick to a special diet due to the health conditions, you'd better ask a vet if you could mix food options and in what proportions.
How do I know how much food I should feed my puppy?
Just stick to the recommendations given by the dog food manufacturer. Usually, they print advised portions depending on the canine's weight or age on the package. You can adjust that amount of food with time to keep your pooch in a healthy weight.
How often should I feed my puppy?
As you decide on the daily portion of dog food for your pup, just split it into three or four equal servings. Feed your pup with those meals within equal intervals of time throughout the day. We advise you to create a feeding schedule to feed your puppy at the same time every day.
What to look at in wet puppy food?
Check the list of ingredients carefully before making a choice. Ensure that meat comes first in the list (it means that the dish contains more meat over other ingredients). Also, mind the source of protein and fats avoiding any byproducts. If dog food has an AAFCO label, you can go for this product because it meets high nutrition standards.
When should I switch my pup to adult meals?
The right time to switch from puppy to adult food will depend on your dog's breed. If you are an owner of a small- or medium-sized dog, puppies become mature at the age of one year. Large and giant breeds need more time to grow into adults, so the transition time will vary from 12 to 18 months for large dogs and 18 to 24 months for giant canines. However, mind the weight as well. Small canines are considered to be mature when they are about 20 lbs, medium — 20-50 lbs, large — 50-100 lbs, and giant — more than 100 lbs.