Best Dog Accessories and Apparel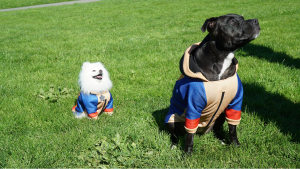 What's the fun in being a proud dog parent if you don't make most of your pup's fashion sense? There are endless Instagram post possibilities right in front of you! Whether you're an up-and-coming canine influencer or a doggy fashionista, we've got you covered. Let's start with the basics to ease you into the exhilarating world of dog apparel and accessories.
Start with Small Dog Sweaters
What's cuter than a toy pup? Only a toy pup in a tiny sweater! Many brands recognize that and make our life easier by providing plenty of choices in all styles and sizes. You can go with a simple t-shirt before you graduate to a knit sweater. Hoodies are also a fun and stylish option. With our help, you'll find the style that your dog will love, and that will look gorgeous on film.
It's not Just About Large Dog Sweaters
Sweaters, jackets, t-shirts, and hoodies are great, but there's so much more to dog apparel than that! If you're willing to experiment, your top dog apparel options include:
Snow and rain gear, as well as life jackets, backpacks, and insect protection products.
Halloween and other costumes, ranging from classic to trending.
Jerseys and accessories with your favorite team logo.
Other Cool Dog Products to Add to Your Shopping List
Once you're comfortable exploring your dog's style, it's time to look outside the box and pay attention to small things that can make a huge difference. In our humble opinion, the best dog accessories are:
Boots and socks for rainy or chilly weather
Bandanas and scarves to help your pooch stand out
Hats and tiaras for special occasions, like birthdays