Best Dog Toys for Your Fur Baby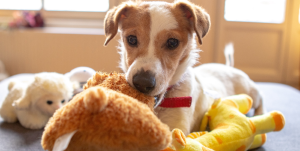 Dogs are naturally curious and playful animals who love exploring the world around them. That is exactly why you've got to entertain your fur baby. But what if you don't have time to play with your doggie all the time? Well, that is where the cool dog toys come to play. Dogs love playing around, chewing on stuff, running, and jumping. You've got to provide your dog with toys so that it has something to play around with.
If your dog is a chewer, it is best to stick to rubber, bite-resistant, and large toys the dog would not swallow. These come in different shapes and sizes, so you've got to pick one that suits your dog. There are balls, bones-shaped, animal-shaped, and all sorts of other shapes out there.
Outward Hound Fetch Flier
Nubbiez Treat & Squeaker Balls
Petstages Carrot Stuffer
Tire Ball
The Triple Jack
The big boys and girls would require more resilient and larger toys. Bigger dogs bite harder, and they can easily rip through most toys that are not made to withstand such heavy bites. That is why you need to stick to durable toys that can stand up to some serious chewing and biting. That way, you can make sure your big dog has fun and is totally safe.
Dental Toys and Chewers
Hide-a-Squirrel Toy
RuffWear Frisbee
Penny the Pineapple
Bully Stick Holder