The best dog toys for chewers - TOP 10 PICKS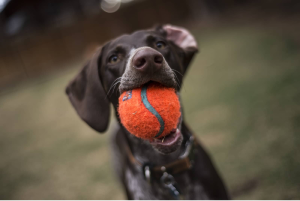 Chewing is embedded in a dog's DNA code. It's all part of their nature. This habit keeps them physically and mentally healthy, starting with their teeth and ending with their overall well-being. Those canines who are not given a chance to chew suffer from serious health problems and lose their teeth prematurely.
Of course, you don't want your pooch to gnaw everything around like your favorite pair of sneakers or legs of an expensive piece of furniture. That is why you introduce toys to let your canine succumb to their instincts.
But what if your doggy turns out to be a heavy chewer? A new toy doesn't last even an hour. This might quickly burn a hole in your pocket. So what can you do about that?
The good news is that there are special toys designed for tough chewers. Of course, they are not completely indestructible. But they are guaranteed to provide your pooch with a much longer chewing time.
Advantages and disadvantages of super chewer dog toys
Every home with an aggressive chewer should have a toy your canine could safely chew on.
First of all, because it's the way to switch their attention from your antique rug or other pieces of furniture when they either get bored or have tooth pain. Providing a healthy and safe chewing alternative, you make sure your canine fulfills their gnawing needs without damaging your property.
Moreover, chew toys are great for keeping dog's teeth and gums healthy. Chewing on a toy works like brushing your teeth. As your pet chews, the harmful plaque is scratched away, which leads to better oral hygiene.
You probably know that when your furry buddy is anxious, they tend to chew on something to relieve their feelings. Toys that are manufactured for power chewers work like a psychiatrist — they put their mind at ease.
However, not all toys are made equal. If you make a wrong choice, you might put your canine to danger. For instance, if the chew toy is too small or has objects that could be quickly torn away (like eyes, buttons, etc.) and swallowed, the innocent toy might turn into a choking hazard. Besides, there are chew dog toys made of toxic materials that are unsafe and could lead to intoxication.
We are pretty sure you do not want a toy to be the source of your canine's health issues. So you are very careful with the choice. With that in mind, we've looked through dozens of canine toys for extreme chewers and created our top list that would provide your pooch with hours of endless fun.
Here are top 10 dog toys for aggressive chewers in 2020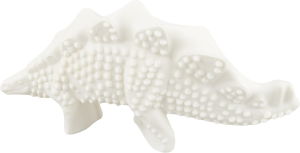 Combat canine's boredom while taking care of their teeth with this toy for heavy chompers. It is made in the form of a dinosaur with the unique texture, which is great for the dog's oral hygiene and entertainment. However, it's not suitable for pets with soft gems as one of the owners says that she noticed that the gems were bleeding after the dog tried to chew the toy.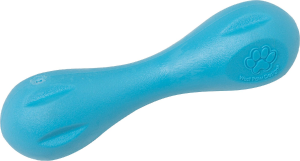 West Paw Zogoflex Hurley Tough Dog Chew Toy
Check price
Entertain your pooch with a bone-shaped toy for avid chewers. It comes in three sizes and four colors to ensure you find that very toy that pleases your pet. You can use it as a fetch toy for mutual games or give it to your doggy to gnaw on it to avoid destructive chewing. But some canine handlers say the toy turned out to be not as durable as they expected since it was torn into pieces in a week or so.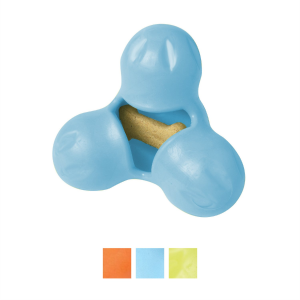 West Paw Zogoflex Large Tux Tough Treat Dispensing Dog Chew Toy
Check price
Would you like to encourage your pet with some delicious treats? This tux toy provides endless fun spiced up with the canine's favorite kibble. It's great for fetch games as it bounces up and down and comes in three colors to be easily spotted by your pooch in the grass. Moreover, it stands sharp teeth of heavy chewers so that they could safely chew and play.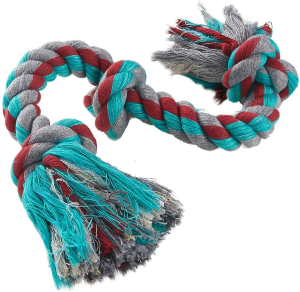 Is your pet a fan of knot toys and tug-o-war games? This rope toy is what will keep them occupied for hours, while flossing canine's teeth as they chew on this toy. Because of durable fiber, this one is almost indestructible. Dogs love tossing and shaking this toy on their own as well as getting entertained with their owners.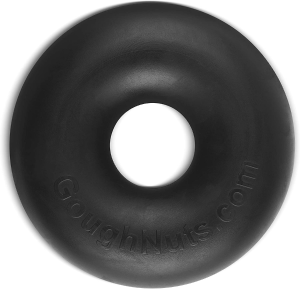 This dog toy is designed for extremely aggressive and large chewers. The manufacturer says they use the same rubber engineers utilize for spaceships and aircraft, so it's supposed to be super tough. And customers' reviews prove that this is a perfect match for an extreme chewer since the toy doesn't have an indent in it even after weeks of use.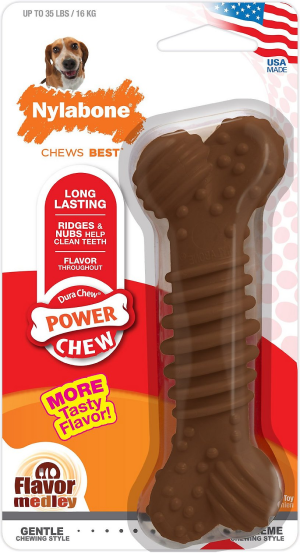 Is your pooch fond of gnawing at bones? Then they'll definitely love this toy as a worthy bone replacement. Since bones can be dangerous, this toy is a safe and entertaining alternative to let your pooch unleash their natural instincts. Based on the reviews, canines go crazy about this toy — they love to carry, play, and chew on this plaything.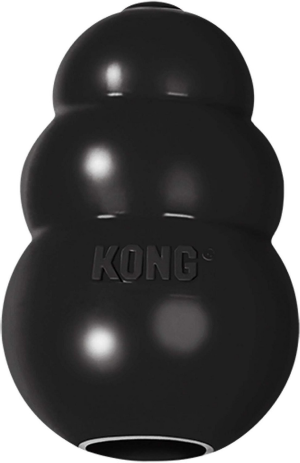 Challenge your furry friend with this super tough dog toy. It comes in 5 different sizes to deliver the pleasant pastime for chewers of all sizes and breeds. Add extra fun to your dog's playtime stuffing this toy with their favorite treats. This one is going to hold up for a long time as it is produced of durable rubber.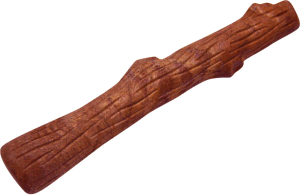 Petstages Dogwood Mesquite Tough Dog Chew Toy
Check price
Excite the senses of your petite chomper with this BBQ-scented toy. It looks exactly like the stick they used to play with in your backyard as you were having a picnic. This toy enhances dental health of your canine while supporting their natural instincts to gnaw and chew. But be careful as you might notice tiny little plastic pieces all over the floor after several uses.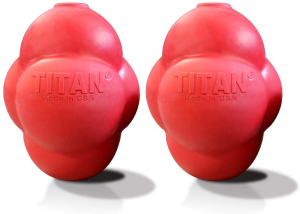 TITAN Busy Bounce, Tough Durable Treat Dispensing Dog Toy
Check price
Occupy your beloved canine with this bouncing treat dispenser. You can fill it with any treat your pooch loves and keep them busy for hours. Besides, it is made of strong rubber which can stand the bites of even large dogs. Canine owners recommend using it for outside games because of the unpredictable bouncing effect, which dogs love.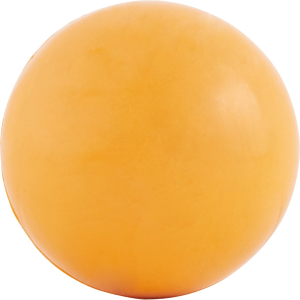 Your dog could toss, roll, play, fetch all day with this dog ball. It will survive chewing even of aggressive chompers as it is made of super tough and non-toxic rubber. It is said to be extremely durable and hard to chew apart even by large canines.
TOP 3 indestructible dog chew toys for small dogs
If you are an owner of a pocket-sized or petite Pug, Chihuahua, or similar breed, you can't grab any random toy from the shelf and give it to your four-pawed friend. Make the wrong choice, and your pooch won't play with it at all. Or even worse, it might be dangerous to play. So we've picked the best toys suitable for small pooches.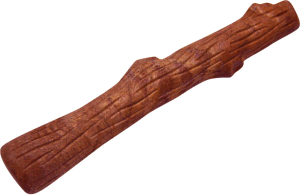 Petstages Dogwood Mesquite Tough Dog Chew Toy
Check price
Small dogs chew on things just like large canines. If you want to discourage destructive chewing behavior of your tiny furry companion and provide them with a healthy alternative, consider this chew toy. It's made in the form of a woodstick to brighten up playtime. While this plaything is strong enough to stand your canine's chewing, it is still gentle on their tiny teeth. You can throw this toy at great distances and play fetch with your pet. However, let your doggy play with this item only under your supervision. Small parts might come off, and they are especially dangerous for pint-sized dogs.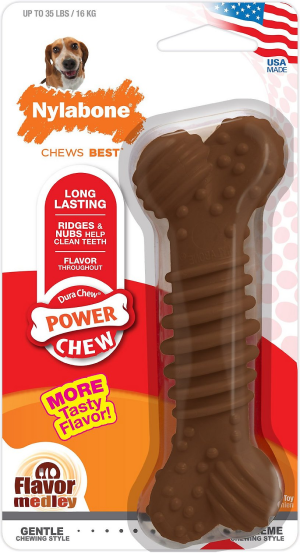 Your tiny dog can be a heavier chewer than Great Dane or other giant pets. So when picking the right toy for your extreme chewer, you want to make sure it is durable enough to stand their sharp teeth. This Nylabone textured bone works great for canines who enjoy gnawing at things around. It is recommended by vets to be used for entertaining your pet and providing them with hours of active playtime. Because of multi-texture design, it also removes plaque & tartar taking care of your pet's oral cavity.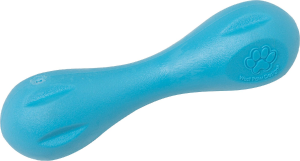 West Paw Zogoflex Hurley Tough Dog Chew Toy
Check price
This toy for miniature canines was designed with persistent chewers in mind. This plaything is ideal for solo chomping as it is produced from the durable BPA-and-phthalate-free material that is hard to break apart. Being floatable and light, it's perfect for active pastime in the lake or pool. Even though it's tough enough to withstand canine's bites, this bone-shaped toy is gentle to their teeth and gums. It's light enough, so your pooch could easily carry it around. Because of the rounded shape, your pet will roll it around being busy for hours.
TOP 3 heavy duty dog toys for large breeds
What should you consider for your giant chewer — a rubber, plush, or fire hose dog toy? Not all materials are equal, so here's what we recommend for your large canine.
Materials used for dog toys for heavy chewers:
Rubber — this is the top pick for heavy chewers as it is almost indestructible.
Rope — frequent choice for large dogs who tend to aggressively chew things.
Firehose — proved to be durable, but doesn't work well for all dogs.
Kevlar — it stands bullets and knives, but sometimes fails to resist dog's teeth.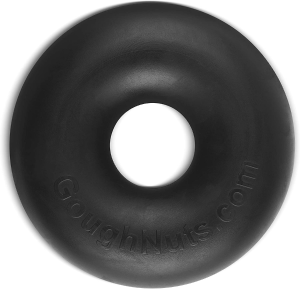 This ring-shaped toy can provide your pooch with excellent chewing experience. This company utilizes rubber that's been used for spacecraft to ensure your pet won't damage the toy. Your aggressive chewer will appreciate the tough feel of the material. Some dog owners say that they've been using this toy for 2 years and it is still in perfect shape. However, you might notice the latex smell, but it will dissipate over time.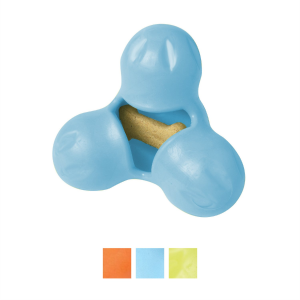 West Paw Zogoflex Large Tux Tough Treat Dispensing Dog Chew Toy
Check price
Because of the unusual design, you can use this toy for a number of activities with your giant. Let your canine entertain themselves with this toy, stuffed with treats or as it is. You might also use it for mutual fetch or tug-o-war games to get fun together. It stretches, bounces, floats, so you can do any activity with your pet. Being made of thermoplastic elastomer, it'll be almost impossible for your dog to break it into pieces. It can easily withstand aggressive chewing and provide your pet with an engaging pastime.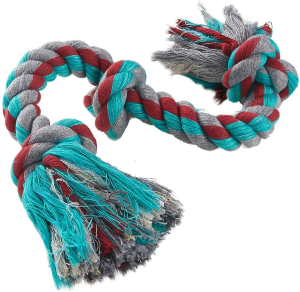 Add more drive to games with your canine introducing this rope toy. Being produced from tough fibres, it's made to last. This toy is completely chew-proof and your pet will have hard times tearing this plaything apart. One more benefit of this toy is that it cleans the canine's teeth while they play and entertain. This is a good option for a heavy chewer who tends to chew through other toys.
TOP 3 chew proof dog toys from rubber
Rubber is one of the best materials when it comes to toys for heavy chewers. It's reliable and durable and can last much longer than any other toy. Here's our top pick of rubber toys.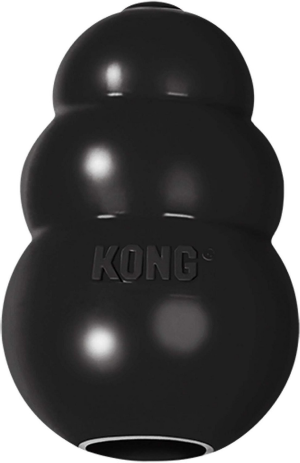 Let your canine satisfy their natural instincts in a good way. Focus their chewing energy on this extreme toy rather than your furniture or shoes. This item is made of rubber, which is chew-resistant. Engage your pooch into a more active pastime adding their favorite treats into the holes. Or you can build stronger relations with your pet playing fetch games. But mind that this toy might have an odor your pet won't love.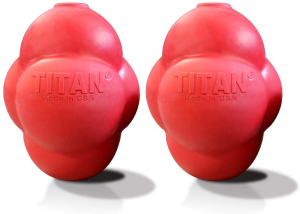 TITAN Busy Bounce, Tough Durable Treat Dispensing Dog Toy
Check price
Give your dog's teeth a good challenge with this super tough rubber toy. It is made to last, even if you are an owner of a power chewer. This toy will keep your pooch entertained, especially when left alone. You can add treats like peanut butter, kibble, meat pieces to encourage active play. This plaything bounces, rolls, stimulating your buddy both physically and mentally.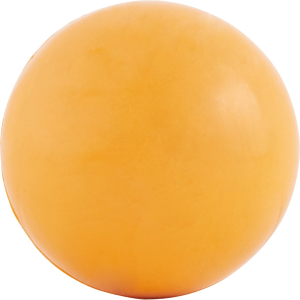 Your heavy chomper won't destroy this solid rubber toy, even when applying all their diligence. It's as tough as nails, so even sharp teeth of your pet won't crack it apart. This plaything will help entertain your pet in many ways. It bounces from any solid surface, so you can use it for fetch or retrieve games with your beloved furry friend. It's easy to clean since you can put it in the washing machine.
How can you pick that very toy that would last forever? Let's be realistic. There's hardly a toy that is capable of outliving your pooch. But there are options that might serve for years, even if your pet does all their best to chew on it. Here are our recommendations on how to pick the toy that won't be hazardous for your pet.
Safe dog chews for aggressive chewers: make the right choice
When picking the toy for your canine, keep their age in mind. If you own a puppy, the toy must be durable yet soft enough not to damage gentle teeth and gems. The same goes for senior pets. Their teeth might not be that strong for solid and hard toys.
Don't ignore canine size. Be twice attentive when purchasing toys for miniature pets. Make sure they don't have small details that could be torn away and swallowed. Large dogs will need durable and indestructible toys like made of rubber or rope.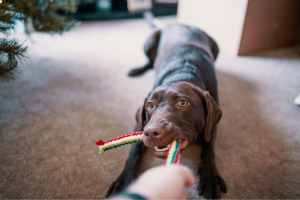 Pick this Nylabone DuraChew Textured for your pup or small dog. It has a tough yet soft texture not to damage gentle teeth of your pet.
Your large chewer will enjoy this Goughnuts Dog Chew Toys Rubber Ring. Besides, they will have hard times cracking it apart.
KONG Extreme Dog Toy is your go-to rubber toy for keeping your pet occupied. It bounces and could hold treats to encourage active play.
Even though these toys are durable and strong, don't disregard the fact that nothing lasts forever. Take precautionary measures when your pooch plays with the toy.
Chewy dog toys. Is it safe for your canine?
Never rely on sturdiness of a toy
Always supervise if it's in good condition
If its pieces start to break off, replace the toy immediately
If possible, let your pet play with the toy only in your presence
So, what toy should you settle on? Every dog is different and you can't know for sure whether they will love this or that toy or not. It takes time to learn your pet's preferences, so our best piece of advice is to try several options. Anyway, you'll be getting more than one toy for your pooch to provide your pet with a variety of choices.
Will indestructible toys last forever?
There's no guarantee that the indestructible toy will stand your pet's sharp teeth forever. It's made of sturdier materials, but it doesn't mean that your pet couldn't destroy it. It depends on your pet's chewing habits. But it will definitely last longer than an ordinary toy.
Should I leave my dog's toys out?
Of course, you want your pet to be entertained with their favorite toys when left alone, but it's not a good idea if you are a dog parent of an aggressive chewer. Even the most solid toy might get damaged someday. So it's not safe to leave toys out when you're gone. Supervise playtime to get a piece of mind and be 100% sure that your canine is in safety.
What is the best material for a dog toy for an aggressive chewer?
Rubber, without any doubt, is the most durable and reliable material when it comes to dog toys for tough chewers. This should be your first pick because it's almost indestructible. You can also consider rope, firehose, and kevlar, but they do not always work great.
What size of a dog toy should I choose?
Manufacturers of toys frequently provide sizing charts to help you pick the right toy for your dog. The toy you should pick will depend on the dog size. The plaything should be comfortable for carrying yet large enough not to be swallowed.
What toys are forbidden for chewers?
Stay away from plush toys and rawhide if your pet is an avid chewer. Also, refrain from buying toys with small objects that could be easily torn away and swallowed. Just make sure that the toy you give to your pet is durable enough and won't be damaged at one bite.