The Best Rope Dog Leash - Top 10 Picks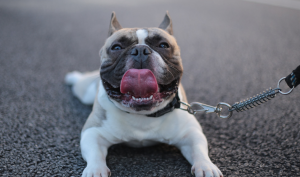 What's the best thing about being a pup parent? Cute pics and cuddles are all well and good, but it's the ability to take your dog for a walk that's a true advantage, as we've learned throughout the lockdown. And a quality leash is a must if you want to make your walk pleasant and safe for you and your pet.
Choosing the right leash can be a hassle considering the number of offers, so today, we'll walk you through the top rope models. These are affordable, reliable, and easy to use, so they fit almost every breed and situation. But first, let's address the elephant in the room.
Why Is Mountain Dog Leash Considered to Be the Best?
Mountain leashes are all the rage these days, even if the company has been around for merely a decade. Their products are produced using retired climbing ropes that are extremely strong and can hold even the largest breeds under control. Considering the durability of climbing ropes, you're likely to use the same leash for years to come. And even if your pup chews through the leash, lifetime guarantee covers the damages, and you'll receive a replacement free of charge.
Mountain products are trendy, reliable, and eco-friendly, but there's a flip side. For one, the prices are higher than average. Buying a leash with a carabiner may be too much of an investment, especially if you're not sure it's what you need for your pup. Considering the rope is recycled, there's often no way to predict the color of the leash you'll get. Most products are vibrantly colorful, but only a few options come with a preset palette. If you want the leash to match the collar or your outfit, you'd better look elsewhere. Finally, the variety of leashes on offer is limited, so if you're looking for specific features, Mountain might not be the best for you.
We've scoured the web for ten solid options outside this brand and are happy to present our findings.
Here Are Top 10 Reflective Dog Leashes and More in 2020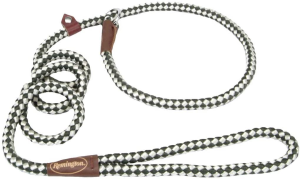 Coastal Pet Nylon Remington Rope Slip Dog Leash
Check price
Coastal Pet Nylon Remington Rope Slip Dog Leash is soft, lightweight, and durable. The 6-feet-long leash can be rolled up and tucked into a pocket, and the Remington rope slip construction allows you to better control the dog's behavior in the crate or during your walks. This model is affordable and quite popular.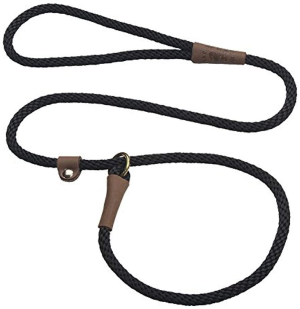 Mendota Products Dog Slip Lead
Check price
Mendota Products Dog Slip Lead is perfect for training your dog out of the pulling habit. The polypropylene leash is suitable for small to medium-size dogs and is only 4 feet long, perfect for less subordinate pups. Make sure to place it just under the ears to make most of the slip design.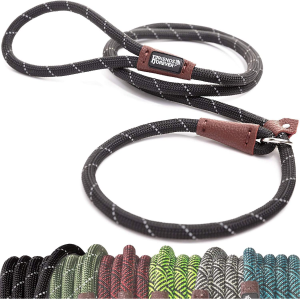 Friends Forever Extremely Durable Dog Slip Rope Leash
Check price
Friends Forever Extremely Durable Dog Slip Rope Leash is among Amazon bestsellers. Made of climbing rope, this 6-feet-long leash is perfect for breeds small and large, as the slip loop can be adjusted for any neck size. Reflective strips ensure night safety. However, the lead's durability is in question, as some buyers note unraveling.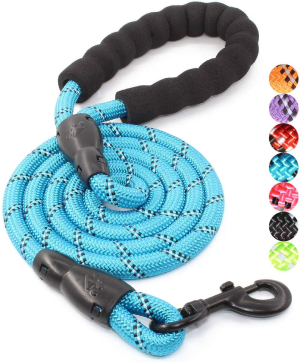 BAAPET 5 FT Strong Dog Leash
Check price
BAAPET 5 FT Strong Dog Leash is a well-reviewed top seller. The climbing rope leash is 5 feet long and boasts a padded handle and a rotating clip that prevents tangling. The updated cover design ensures the leash remains intact even if your dog is a strong puller. If you don't like it, use the money-back guarantee to get a full refund.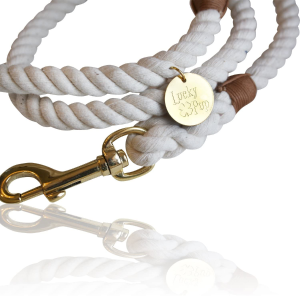 Lucky Pup Cotton Rope Dog Leash
Check price
Lucky Pup Cotton Rope Dog Leash is kinder on your hands than nylon alternatives, and it looks more stylish in white or grey cotton with leather accents. The rope is 5 feet long with a strong clip that's enough to hold medium breeds. The white leash is hard to clean and takes forever to dry, so set up a washing plan before buying.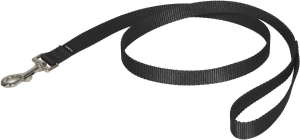 PetSafe Premier Nylon Dog Leash
Check price
PetSafe Premier Nylon Dog Leash is as basic and functional as it gets. You can choose the length and width of the black nylon rope to fit your pup's size. However, the bolt snap clip might be a bit flimsy to hold large breeds. While the leash is strong enough to control pulling, it won't stand up to chewing.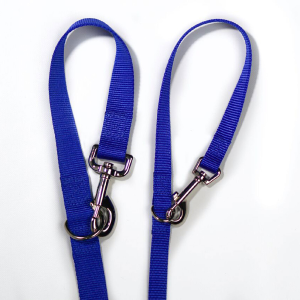 Blue-9 Multi-Function Leash
Check price
Blue-9 Multi-Function Leash is set apart from others by two clips at both ends that provide six ways of using it. The nylon lead can be used as a regular walking leash, a shorter version, or even a hands-free leash. Most buyers are happy with the expanded use options and enjoy increased value for money.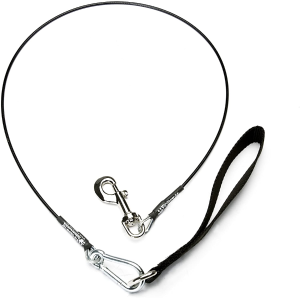 VirChewLy Indestructible Leash for Dogs
Check price
VirChewLy Indestructible Leash for Dogs is, true to its name, virtually chew-proof, as it's made of vinyl-covered steel cable that can double as a tie-out. Still, the leash needs work, as the clip may come undone and let your dog loose at the most unfortunate moment. The price could be justified if the leash were better constructed.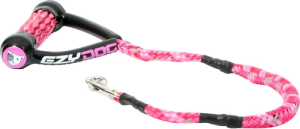 EzyDog CUJO Shock Absorbing Leash
Check price
EzyDog CUJO Shock Absorbing Leash relies on a comfy handle design and shock-absorbing technology to make the walks more enjoyable for you and your pooch. Despite the price, most buyers commend the comfort level and increased reach.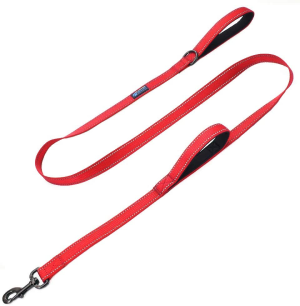 Max and Neo Double Handle Traffic Dog Leash Reflective
Check price
Max and Neo Double Handle Traffic Dog Leash Reflective is a heavy-duty model designed with dog rescue needs in mind. It's super durable and functional thanks to two neoprene-padded handles and a gunmetal D-ring that's perfect for keeping dog accessories within reach. For every leash sold, one is donated to the US-based rescue centers.
TOP 3 Nylon Rope Dog Leashes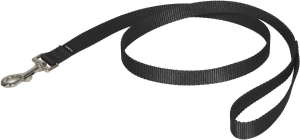 PetSafe Premier Nylon Dog Leash
Check price
PetSafe Premier Nylon Dog Leash is the cheapest option on our list, perfect for first-time dog parents with no idea what to buy for the new addition to the family. The lead is available in a variety of options: ¾ and 1 inch wide, 4 and 6 feet long. Six color options include classic black and bright raspberry among others. The bolt snap clip is the only downside to this simplistic design. It might be enough to hold a pup or a medium-size dog, but it won't hold large and giant breeds. Besides, there are no reflective elements, so it's not the safest choice for nighttime walks.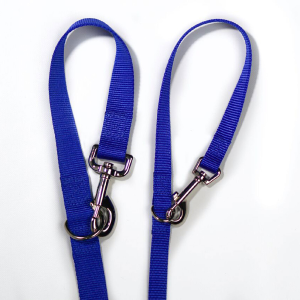 Blue-9 Multi-Function Leash
Check price
At first glance, Multi-Function Leash by Blue-9 looks a bit strange with no handle and clips at both sides. However, this design makes it extremely versatile. You can either clip both sides to the harness and the collar or loop around your shoulder for a hands-free walk. Either way, the leash will remain in place thanks to heavy-duty accessories and multiple attachment points. The full length is 6 feet, though it can be shortened to 3.5 feet, and there are six hues to choose from.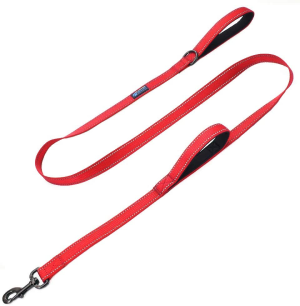 Max and Neo Double Handle Traffic Dog Leash Reflective
Check price
Once you try Max and Neo Double Handle Traffic Dog Leash, you won't be able to go back to the basics. While the lead is made of the same sturdy nylon, the second handle makes it uniquely suited for city conditions. The additional D-ring is also a stroke of genius, as you can attach a poop bag, your keys, or other accessories and have them on hand when needed. Finally, when buying one of these, you help rescue dogs. For each leash sold, the company donates one to rescue centers across the US. Buyers love this product, and it's definitely our number one choice.
TOP 3 Rope Leashes for Large Dogs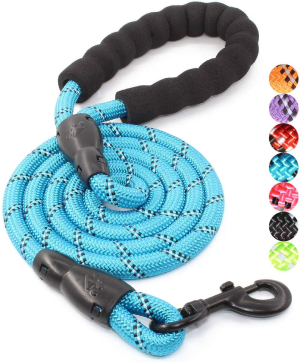 BAAPET 5 FT Strong Dog Leash
Check price
It's no surprise BAAPET 5 FT Strong Dog Leash is Amazon's #1 bestseller. With over 15,000 reviews, it has a reputation for durability, comfort, and strength. The five-foot-long leash is perfect for training, walking, and jogging. The 0.5-inch climbing rope can withstand a lot of strain, so it's suitable even for giant breeds. Your hands won't suffer rope burns thanks to a padded handle, and the heavy-duty clip and redesigned buckle ensure the leash will stay in one piece for years to come. You get to choose among six color options with reflective trim and can return the leash for a full refund if you're not happy with the product.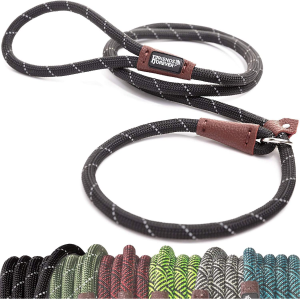 Friends Forever Extremely Durable Dog Slip Rope Leash
Check price
Friends Forever Extremely Durable Dog Slip Rope Leash does not require a collar or a harness, making it a perfect solution for training, walks, crate transfer, and more. The neck loop can be adjusted for breeds of all sizes, from small to giant, though the 0.5-inch climbing rope might be too thick for smaller dogs. The 6-feet-long leash is created from climbing rope and supplemented with reflective stripes to make your nightly walks safer. While extremely popular with large dog owners, this leash has earned a few complaints. The rope tends to unravel, especially if it's subjected to chewing and rough treatment.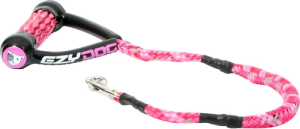 EzyDog CUJO Shock Absorbing Leash
Check price
If you're into running or cycling with your dog, EzyDog CUJO Shock Absorbing Leash is the one for you. Its unique bungee cord design provides ample roaming room for the dog, while the shock-absorbing handle prevents you from feeling the strongest tugs and pulls. You can have your choice among several vibrant color options, each complete with a highly reflective trim to ensure your nighttime walks are safe. The polypropylene rope is durable and strong, even if it can be frayed over time. You should also keep the leash out of your dog's reach if he is a chewer.
Which Peculiarities Do Climbing Rope Dog Leashes Have?
They are actually made of certified climbing rope, meaning the leads are strong enough to withstand jolts and pulls from even the giant breeds without breaking or fraying. Their durability is usually off the charts, unless you let the dog chew on the leash.
These are no-frills models. Unlike specialized leads, rope leashes are minimalistic, yet functional. There's a clip (or a neck loop) and a handle connected by four to six feet of brightly colored and reflective rope.
They are virtually maintenance-free. Climbing rope is waterproof and tear-proof, easy to clean and quick to dry. Most leashes can be safely washed in a washing machine, though a dryer might not be the best idea.
They will serve you for years to come. While climbing rope is retired from human use, the leashes are nearly everlasting. Some buyers claim their leads have lasted at least ten years.
TOP 3 Rope Leash for Small Dogs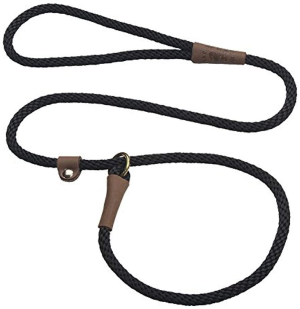 Mendota Products Dog Slip Lead
Check price
For a minimalist look and comfy feel, go for Mendota Products Dog Slip Lead. This model is available in several sizes (½ or ⅜ inch thick, 4 or 6 feet long), so you're sure to find the right one for your pup. The leather clasp is there to adjust the neck loop, and the slip leash for dogs is invaluable for training your pup out of pulling. Unlike nylon models, this polypropylene rope is easy on your skin, extremely soft and pliable while remaining strong and durable. It's machine-washable too! There are several vibrant color combinations to choose from, so you're sure to find the perfect fit for your dog walking outfit. We couldn't find any strong complaints about this leash among the buyers, so it's a definite win.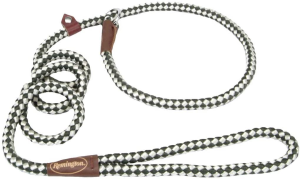 Coastal Pet Nylon Remington Rope Slip Dog Leash
Check price
Coastal Pet Nylon Remington Rope Slip Dog Leash is similar to Mendota leashes, but cannot boast the same popularity or versatility. The six-feet-long nylon rope is pliant and foldable, but the color options are limited to two, and the only available diameter is 0.5''. Still, its slip design is good for training and daily walks, and the price is reasonable for the value you get. Go for it if you care about function over looks.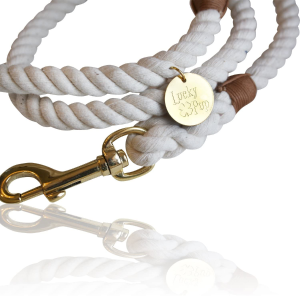 Lucky Pup Cotton Rope Dog Leash
Check price
If your pup is the most stylish on the block, she will love the Lucky Pup Cotton Rope Dog Leash. Unlike most options on this shortlist, it's 100% cotton and hand-made in India. The braided rope looks sleek and stylish, and it's more comfortable to hold than nylon or polypropylene. The 5-foot-long leash is accentuated by leather accessories and available in white and grey. And while buyers commend the style, they aren't happy with the weight of the leash or the time it takes to clean and dry it. This leash might be a nice addition to your collection, but it's not for everyday use and training.
Who Really Needs Rope Style Dog Leash?
Everyone needs a rope leash! It's the basic accessory that should be present in every dog owner's household. Besides, rope leashes are affordable and versatile, and with our help, you can choose the best of the best:
Take your nylon leash experience to the next level with Max and Neo Double Handle Traffic Dog Leash. Make most of the second handle, reflective stitching, and a D-ring for accessories.
Enjoy the padded handle, heavy-duty clip, and strong climbing rope of BAAPET 5 FT Strong Dog Leash that's our top pick among leashes for large dogs. Its reputation and rating are unbeatable!
Get Mendota Products Dog Slip Lead for your small dog, if you need a versatile leash for walks and training and want the option to choose the right length and style.
Every Really Strong Dog Leash Rope Has
A diameter of at least 0.5''. Thinner ropes do not have the strength to survive the pulls and jolts of large and giant breeds.
A heavy-duty clip or carabiner. If the rope is strong enough, metal accessories become weak points and may break under strain.
Strong connectors. The buckles connecting two layers of rope near the clip, and the handle can unravel unless the manufacturer relies on heavy-duty buckles. Glued connectors are usually the weakest, while those with internal spikes are the strongest.
Handle padding. Strong leashes for large dogs can cause severe rope burn, so padding is a must to prevent injury for you and your dog.
A respectable price tag. Quality climbing rope cannot be cheap, so don't fall for the empty promises and choose among respectable brands with a good reputation.
Refund options. While few brands will replace a leash your dog chews through, most will refund the faulty products that come undone undress stress.
Rope leashes are versatile, affordable, and strong. Use our shortlist to find the perfect one for your pooch, and your walks will become even more enjoyable and safe!
Are rope leashes good for dogs?
If you are an active dog parent who enjoys mountain climbing, sailing, or other types of an active pastime, you will make great use of a rope dog lead. Also, if your pet is an avid chewer, rope leashes might last longer than ones made of leather and other materials. In case your pooch pulls on a leash, the lead made of rope will help protect your arm and shoulder from injuries.
What is the right length of a rope lead for my dog?
The most popular length choices for leashes are 4 and 6 feet. You will enjoy a 4 ft leash in case you need more control over your pet. A standard length for a training and walking leash is 6 ft. This length allows some slack to ensure you could jog, cycle, walk without restricting dog's freedom much. Some leashes are 12 inches long (actually, they make a handle and a snap hook) in the event you feel the need to keep your pooch close by your side.
Do I need to upgrade my rope leash with a carabiner?
If your dog slips collars like David Copperfield, you will want to ensure they won't run away or get into trouble. A carabiner attached to the collar and leash prevents awkward situations and keeps your pet under your control, even when a collar fails.
How do I stop my dog from pulling on a leash?
Start with understanding what makes your dog behave like that. Your canine might lunge on a leash because they feel restricted, frustrated, or uncomfortable with the situation. If removing stimulus didn't help, you should think of ways to train your canine to walk nicely on a leash. Start with getting the right equipment like a dog harness with a front-ring attachment. The chest-led harness will turn your dog's body around instead of allowing them to go forward as the pet starts to pull. Some dog trainers recommend using a prong collar, but it's up to you to decide whether you'll agree on this tool. If this doesn't help, consult a local dog trainer for the right strategy that would help you nip the naughty behavior of your doggy.
Which rope leash is better: slip or clasp?
A slip dog leash doesn't have any fastening mechanisms but for the loop. When you use this type of leash, you don't need a collar or harness to walk your dog as the leash does all the job. Also, it is easy to put on and off. It works great for training purposes because it produces a choking effect as your canine lunges on the lead or you pull the leash. However, be very careful and use this type of dog equipment only when you are well-versed in the art of slip leashes. Clasp leashes are attached to the O-ring of a collar or harness with clips. They are the top pick among all dog handlers because they are simple in use and could be combined with a collar or a harness.