The perfect pet nail trimmer - TOP 5 PICKS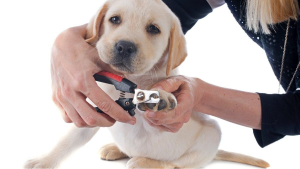 Does your dog like having their nails cut? If yes, lucky you are. But, alas, most of the canines aren't big fans of this grooming procedure.
Perhaps you made a mistake once when cutting their nail's cuticle and your pup is now literally hiding in the corner showing no signs of willingness to get the manicure done. You can't blame your pooch for that. It hurt once, and they don't want that to happen once again.
Anyway, you realize that you can't ignore the hygiene of your furry buddy. Whether they like it or not, you must take care of their well-being and health. Don't clip canine's nails, and you risk having even more serious problems. Too long nails cause pain and discomfort. Besides, the nail could be torn off if it gets caught into something. This could even lead to improper toe and paw joint alignment.
Luckily, there's a sound alternative to a traditional trim nail clipper — a grinder, also known as a dremel or trimmer. Unlike clippers, a trimmer grinds down rather than cuts dog's nails, ensuring smooth and rounded corners.
Further, we'll dwell on the most common trimmer types as well as review the best options to get your pet's nails properly handled.
Types of pet nail trimmers
As you settle on buying equipment to trim the nails of your pooch at home, you might be really confused. There are so many models out there, so which one should you choose?
In fact, we can distinguish between several trimmer types depending on the features.
There are rechargeable, battery-powered, and cord nail grinders in terms of energy source. In relation to the speed selection, there are one-speed and multiple-speed tools. You can find devices with or without LED to indicate the battery level. There are also grinders with one or several ports (like for the nails of small, medium, and large dogs).
The choice will depend on your needs and budget. We reviewed the most popular dog nail dremels to ensure you could make a wise decision without spending several days on the market research. We looked through user feedback and created our own list of top dog trimmers to get salon-like grooming care from the comfort of your home.
Here are top 5 best dog nail trimmer in 2020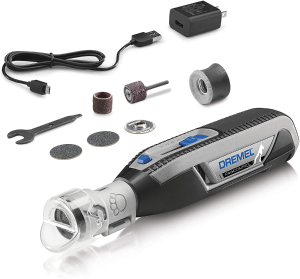 Dremel PawControl Dog Nail Grinder and Trimmer
Check price
This grinder is a perfect match both for first-timers and experienced home groomers. Being compact and lightweight, it allows you to trim canine's nails in a convenient setting without causing any discomfort for both of you. This tool has a guard attachment to deliver a safe manicure procedure. Based on the reviews, this one is capable of handling large dog's toenails.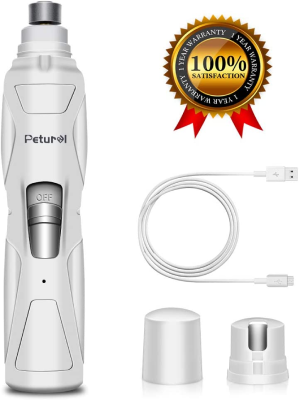 Dog Nail Grinder Upgraded
Check price
Maintain healthy nails of your pooch with this grinder. It is a good option if you would like to have a stress-free and painless grooming experience. This tool is equipped with a quiet motor, which allows you to trim the canine's nails while keeping them relaxed. It has two speed modes and supports even heavy grinding. The trimmer is portable and ergonomic, it comfortably rests in your arm to ensure both of you enjoy the process.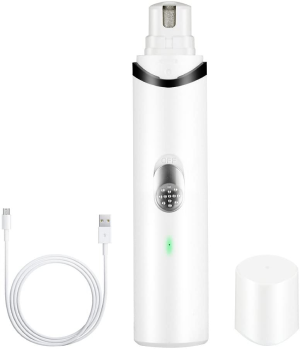 URPOWER Rechargeable Pet Nail Grinder
Check price
Use this nail grinder to trim the nails of your small or medium-sized dog. This model has three ports you can select depending on the nail structure. This rechargeable device ensures 3 works of continuous work and could be quickly charged with a USB cable. However, note that it goes with a cable only, the adapter is not included. Users say that it is light and quiet, but not powerful enough for heavy trimming (which is actually mentioned in the product details).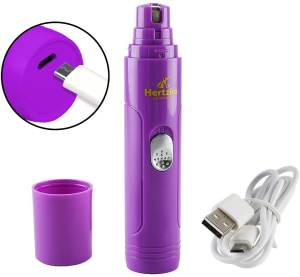 Hertzko Electric Pet Nail Grinder Gentle
Check price
Dog handlers love this tool because it is affordable, functional, and safe. It has 3 different openings to fit any nail size and ensure painless and safe trimming. It is known for the quiet operation at low vibration, which means your dog won't get stressed when having grooming procedures. But owners of large dog breeds say that it takes too long to have one claw done. So, most likely, this model will do better for small and medium canines.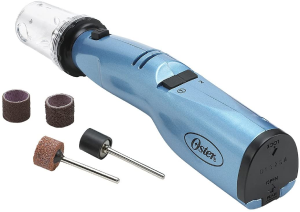 Oster Gentle Paws Less Stress Dog and Cat Nail Grinder
Check price
Is your canine scared of noisy grinders? This Oster tool is designed to reduce anxiety and fear steaming from loud devices. The grinder has a whisper-quiet motor, which is powerful enough to trim the claws of large dogs. It is equipped with a safety guard to deliver a completely secure and painless grooming experience for your furry pal. You'll never go back to old school clippers as you try this nail grinder on your doggy.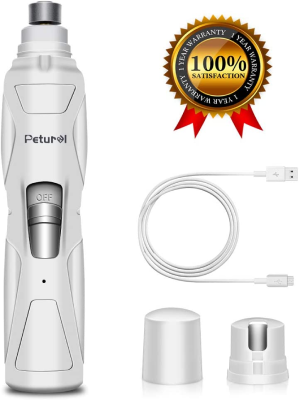 Dog Nail Grinder Upgraded
Check price
Obtain an easy, quick, and stress-free dog nail trimming with this device. It smoothes sharp claws so that they do not damage furniture, floor, or your legs. Thanks to the diamond grind, it helps reduce the excessive length of the canine's nails, while ensuring you do not clip them too short with 3 different ports. It can work up to 6 hours non-stop due to the 900mAh Ni-CD battery and could be recharged via USB cable. Users say that trimming their dogs' nails becomes a breeze with this device. They are no longer spending money on groomer or vet visits since they take care of their pet's nails on their own.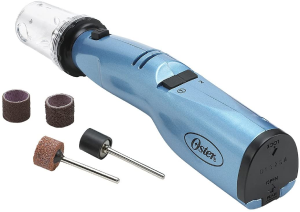 Oster Gentle Paws Less Stress Dog and Cat Nail Grinder
Check price
Dog nails differ depending on the breed. But this nail grinder is suitable for any dog breed and ensures pleasant and calm grooming at home. The device can work both at low and high speed to handle any claw type. Besides, the package includes various bands to ensure your pooch has smooth nails of the appropriate size. Being equipped with an adjustable safeguard, you can rest assured that you won't grind their nails too far. However, according to the reviews, this model might be too noisy at the high speed, which might scare your dog if you do not introduce this device beforehand.
TOP nail trimmer for dogs
Your head might be spinning — what to look for when picking a trimmer for a home use? Let us help you and shed light on what features to keep in mind when buying a dog nail grinder.
Pick the one with the safety guard to ensure you won't cut the canine's quick.
Consider the noise level and go for the trimmer that won't scare your pet.
Make sure it rests comfortably in your hand and is not bulky or heavy.
Mind the power source, i.e. rechargeable, battery-operated, or cord — depending on your lifestyle and needs.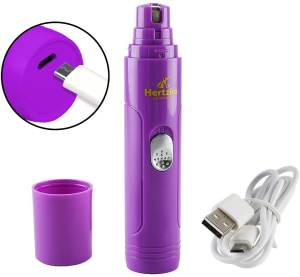 Hertzko Electric Pet Nail Grinder Gentle
Check price
This electric trimmer comes with a diamond bit grind for a smooth and effective nail grooming procedure. Because of low power, it is suitable for small or medium dogs. Which means that it won't do for heavy trimming. But on the other side, this tool is quiet and works at very low vibrations, thus allowing your timid pet to feel at ease when this grinder is on. This is an affordable option for those who want to switch to in-home grooming or would like to refuse from traditional insecure clippers.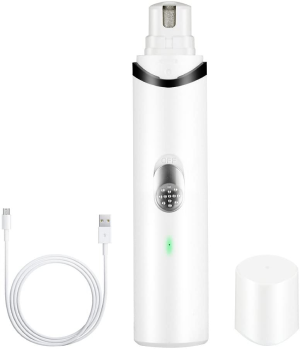 URPOWER Rechargeable Pet Nail Grinder
Check price
If you own a small canine, you'll be completely satisfied with this device. It has only one speed mode, which is sufficient to meet your grooming needs if you are not an owner of a Great Dane, Cane Corso, or other giants. The tool is ultra quiet, but still does the job quickly and effortlessly. It goes with a guard cap for safe grinding. One of the pleasant bonuses is that it has a light indicator. In case the battery is low, you'll always know that it's the time to recharge the device and get it ready for the next nail trimming procedure.
Best canine nail trimmers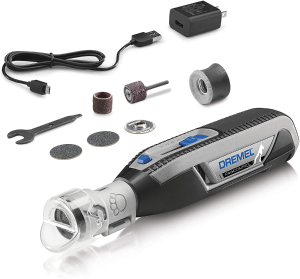 Dremel PawControl Dog Nail Grinder and Trimmer
Check price
Shorten your canine's nails with a premium-quality grinder by Dremel. This is a perfect device to start grooming procedures at home. It features different speed settings for comfortable trimming. A nail guard serves for precise nail grinding so that you are always sure that you won't cut too much. This device has 9 pieces in the kit to ensure you have everything for safe nail trimming. The tool comes with a twist nose cap to easily change accessories at your demand.
So, what is the best fingernail trimmer?
Let us quickly lead you through the best options you can find on the market in 2020.
To manage nails of your small pooch, pick the URPOWER Rechargeable Pet Nail Grinder. It's almost noiseless, while is powerful enough to handle claws of your small canine.
In case you are looking for a device with a powerful battery, this Dog Nail Grinder Upgraded is your best bet. It's 900mAh Ni-CD battery will provide you with 6 hours of work.
Dremel PawControl Dog Nail Grinder and Trimmer is Rolls-Royce in the world of dog trimmers. Either you are a professional groomer or a canine owner who wants to start cutting nails of your doggy at home, you won't be disappointed.
At this point you may ask how you can distinguish between professional and ordinary trimmers, like safari professional nail trimmers.
Features of professional dog nail trimmers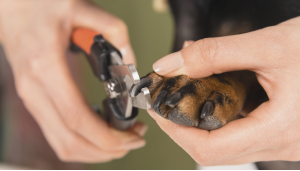 Quality materials ensure the device copes with its job better and faster
Battery timing is much longer if compared with ordinary grinders
The speed range is wider and allows to change the mode
Powerful motor ensures the tool cuts claws of both small and giant dogs
If your dog is stressed at the sight of clippers, you can try a nail grinder which is more dog-friendly. They give your pet's nails a perfect shape and keep them healthier to avoid a high-pitched cut of the ordinary clipper.
We just covered some of the best nail dog trimmers and gave you our point of view based on the user reviews. And now your perfect choice completely relies on your needs and dog.
Why is it important to trim the dog's nails?
Nail hygiene is a thing that should never be overlooked. If you fail to maintain the canine's claws, the nails will grow too long, causing lots of discomfort and pain. Saying nothing about the ache your pet will endure if the nail gets torn or caught on something. Long nails can lead to the wrong weight distribution, which results in improper joint alignment.
How often should I trim my dog's nails?
We can't tell the exact intervals that are necessary for keeping your pet's nails in good condition. Keep in mind that their nails should never grow long enough to touch the ground when your dog stands.
What's the difference between grinding and clipping dog's nails?
As you are clipping dog nails with a clipper, you cut claws putting the pressure on the nail so that its end comes off. This might be dangerous as you can cut the quick, which is very painful. This method sometimes results in uneven nail edges. When you use a nail grinder, you grind down the nail. This leads to smooth and polished edges. But some canines do not like the noise or vibrations that come from the grinder.
How do I cut my dog's nails safely?
Short nails might be equally uncomfortable for the dog just like long nails. So be careful when cutting canine's nails and don't get too close to the quick. As you see the dark spot in the center of the canine's claw, it's a sign to stop because you're approaching the cuticle. However, there's an easier way out if you use a grinder. Most of the models are equipped with ports for different nail types that protect canine's nails and don't allow getting too far and cutting the quick.
What shall I do if my dog won't let me cut their nails?
Give your dog a fresh start and introduce a new clipper that is absolutely different from the previous one. Reward your pooch as you show the device to build a positive connection in the dog's mind. During the next session, keep your pet relaxed and touch the shoulder of your pet with the trimmer. Then slowly progress to the pet's paws. As you manage to touch the canine's paw in a relaxed state, you can hold their paw in your hand and touch their paw pads and nails with your fingers. If your pooch is still relaxed, you can practice trimming.