The Best Outdoor Doghouses and Kennels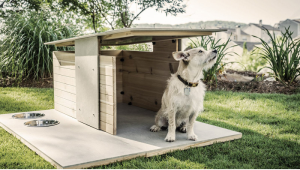 If your pooch prefers outdoor fun to staying cooped inside, setting up a dog house in your backyard should be on the agenda. It's a place for your pup to relax, have some privacy, and even take a nap. Finding a perfect house may be challenging if you don't know where to start, so we're happy to share our advice.
Both are great options, and you can easily find a stylish and sturdy dog house in plastic or wood. Still, plastic is cheaper and easier to clean, even if it might not look as nice. If you choose a plastic kennel, make sure the material is UV- and weather-resistant. Strategically placed vents are also a must, and plastic isn't breathable.
Wood kennels are made with cedar, pine, or fir and covered with a weather-resistant coating to prevent rot and increase durability. These dog houses require regular maintenance, but they look stylish and polished, a perfect addition to an eco-friendly household.
How to Find The Best Large Dog House for Your Pup?
Once you decide on the material, there are a few other features that can make or break the kennel. Before you commit to any model, check it against our list of good dog houses features:
Removable, easy to clean flooring. Consider buying a replacement floor with the kennel to have a spare on hand.
Adjustable legs. Aside from elevating the dog house above ground level, they will also let you get the kennel level on an uneven surface.
Additional access points. Cleaning the kennel through the entry is rarely comfortable, so a latch in the roof or a side wall will make your life easier.
Well-thought-out design and quality materials aren't always enough to make your pooch feel comfy and protected inside the house. It may feel too barren and uninviting, but you can easily fix this problem with a couple of accessories. For one, install a plastic door that will protect your pup from the wind and the rain. Throw a soft pad or bed on the floor or splurge on an electric heating mat if your pup enjoys sleeping outside during the colder months. Finally, you can add any outside decor to the doghouse to make it look nicer and blend with your garden design.