Top-Rated Travel Products for Dogs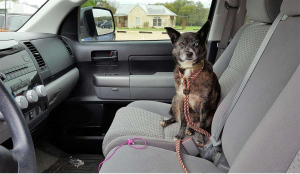 If you love traveling and want to make your dog a part of that experience, you surely need to invest in your pet's travel accessories. Travel accessories for dogs will not only make traveling with your dog more comfortable, but it will also make it safer and more pleasant. You can purchase different types of travel accessories depending on your dog's size and your traveling habits. If you are a true wayfarer and want to make your dog a part of your adventures, you need to make sure you have all the necessary equipment. It is essential to keep your dog safe and clean at all times, so those two must be your primary concern. You also need to make sure your dog is comfortable traveling with you, which is why we are here to recommend some of the best car accessories for dogs.
Seat covers are essential for traveling with dogs, whether you just ride around town or go for a long trip. Dogs run around all the time, and their paws can get really dirty. If you don't want your car to turn into a total mess, seat covers are a must-have. Car seat covers are the best idea for the pet parents who care about their pets and want their car to be clean regardless of where they set their feet and paws.
Seat Covers
Zip Lines
Safety Belts
Pet Hair Remover
Carrier
Traveling with your pet is a fun experience, though you must always stay responsible and attentive to keep your dog safe and sound. You need to make sure your car is a safe space for your pet and that nothing bad happens to it in there. To do so, you need to purchase seat belts designed specifically for dogs. These safety belts will increase the chances of your dog staying unharmed in case of an accident.
No-Spill Dog Travel Bowl
Dog Travel Bag
Backpack Carrier
Reinforced Car Booster
Zipline Seatbelt