The Best Dog Collars Buying Guide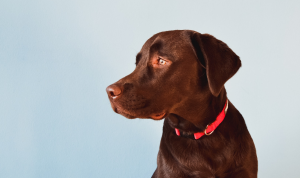 A collar might just be the most crucial accessory your dog will ever own. It can mean the difference between life and death, safety and loss. With our help, you won't have to second-guess yourself because you'll find the one collar that will fit your dog's needs to a T.
The short answer is yes. Leather models are among the most stylish and durable dog collars. The natural material is strong enough to suit all breeds without causing allergies and chafing. The variety of colors, accessories, and styles ensures every puppy parent can find a collar to complement their walking outfit or contrast the dog's shiny coat.
The only downside to leather is its high-maintenance. It won't last long if you get the collar wet all the time, and it will require regular cleaning and upkeep to look good for years to come. Even the price tag will not be an issue if you know how to make leather last a lifetime.
Martingale-style collars are the comfiest for dogs, as they have an additional ring of leather, fabric, or chain that adjusts the length when the puppy starts pulling. This design prevents choking, but you need to pay attention to sizing to find the correct fit.
Accessories make collars comfortable for you. For example, having a tag plate on the top part of the collar will let a good Samaritan get in touch with you soon if your pup is lost. Alternatively, having a D-ring on the top makes it easier to attach a leash. If the collar is too long, having a loop to hold the excess length is a nice touch.
How to Find the Best Dog Collars for Large Dogs?
Do your research, read our guidelines, compare reviews, and remember three critical points. The top dog collar for your pooch should be:
The right size to fit without choking or slipping off.
Strong enough to withstand chewing and scratching.
Safe, hypoallergenic, and comfortable without chafing or crinkling the fur.