Pick the Best Senior Dog Food for Your Loyal Friend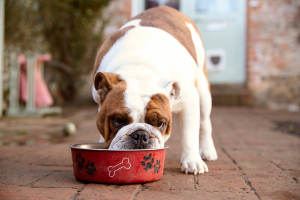 Dogs truly are our best friends, and it is sad that they get older much faster than we do. As a good owner, you need to take care of your best buddy even when it is old, and proper nutrition is probably one of the best ways to show your dog some love and care. Of course, different dogs might have different needs as they age, so you must always take the specific needs of your pet into account rather than buying some random stuff from the store.
How to Find the Best Senior Dog Food
First and foremost, you need to see your vet. Each dog is different and your dog might have developed some health issues over the years that you must take into consideration. Surely, it is great when your dog is in perfect health, even in its senior years, but you must still understand that an older dog has its peculiar requirements.
The sensitive stomach is one of the most widely spread health issues in senior dogs. The best recommendation here is to stick to the foods that contain familiar non-exotic ingredients your dog is used to. Stick to easily digestible foods and foods with fewer ingredients.
Wellness Complete Health Natural Senior Health Recipe
Holistic Select Natural Senior
Hill's Ideal Balance Chicken & Brown Rice
ULTRA Small Breed Senior Dog Food
Natural Choice Wholesome Essentials, Large Breed Senior
Best Dog Food for Older Dogs with Health Issues
Victor Senior Healthy Weight
Canidae Grain-Free Pure Senior Formula
Halo Holistic Senior Chicken Recipe
Iams ProActive Health Senior Dog Food
Best Dry Dog Food for Senior Dogs
Older dogs tend to prefer wet foods, though it always depends on your dog's health. There are numerous types of foods that would suit different dogs, so if your dog has any problems with dental health, you should probably avoid dry foods. Otherwise, it is totally fine to give your buddy some dry snacks.