Your Dog Apparel Style Guide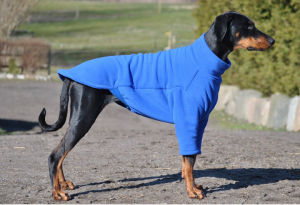 Clothes shopping for dogs is even harder than updating your wardrobe, especially if you're new to the world of canine apparel. Let us walk you through the basic items that should be in every pooch's closet before you get overwhelmed by the endless selection.
The two obvious differences between sweaters and hoodies are the fabric type and the presence of the hood. But which is better for your pup?
Hoodies Beat Small Dog Sweaters
Hoodies are usually made of soft felt-like synthetic material, making it more practical than knit sweaters, as it is easier to wash and dry. Besides, most sweaters come with busy patterns that do not look good on small dogs. Hoodies rely on bold colors and massive prints that work better on tiny pups. Finally, your toy poodle or chihuahua will look super adorable wearing a hood, even if it's just long enough for you to snap a quick pic.
Sweaters work for large breeds for the same reasons they don't work for smaller dogs. Knit pullovers with vivid patterns look good on labs and Danes, and they don't suffer as much wear and tear. Besides, hoods may be annoying enough for large breeds to rip them off.
A jacket is the ultimate outdoor dog gear for the dreary fall and winter months. You can go with a soft and cuddly wool coat for freezing temperatures, and your dog will never get cold even after long walks. If you're more worried about your pooch getting wet, go for one of the waterproof models. Some come in vibrant hues, while others are transparent. Finally, reflective stitching or stripes are great for safe nighttime walks, especially throughout the winter.
Supplement the jacket with dog boots, and you'll have minimal drying and warming up to do once you get home from your walk.
Are Puppy Clothes Different?
Most brands do not differentiate between puppy and adult dog clothes, though some styles look cuter on tiny pups. When buying apparel for the newest addition to your family, remember it won't last long, as the puppy is bound to grow out of it in a couple of months. On the other hand, you can replace the dated styles with new ones without a guilty conscience and donate the clothes your pup outgrows to a local shelter.