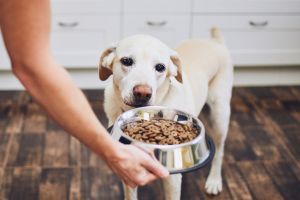 Do you have any idea how many dog food brands are out there? Hundreds! Some of them you'll recognize from the vet's recommendations or online ads. Others are obscure and only popular in the tight-knit circles of breeders. Making sense of this variety is challenging in the best of times, even for avid label readers.
Research into one of the top-rated dog food brands may take several weeks, especially if you go deep-diving into FDA archives and Reddit discussion threads. And your pup can't go hungry while you're slugging through tons of info. Luckily, we've done the majority of the legwork for you. We've scoured the web, archives included, to narrow down the dog food options to a couple dozen brands that will benefit your pooch.
What Is the Best Dog Food Brand?
All top-rated dry dog food brands will try to convince you their offers are the tastiest and the healthiest. But no one (aside from the vet) can tell what kibble or wet food is actually the best for your pup's needs. The answer depends on so many factors, your head will spin.
First, factor in your dog's age and size. Puppies, adult and senior dogs come with surprisingly different energy needs. The same is true for small, medium, and large breeds. You can't feed the same kibble to a teacup poodle puppy and a senior German Shepherd because one or both of them will suffer. That's why keeping two or more dogs usually leads to juggling multiple bags of kibble.
Next, consult the vet on your pooch's food sensitivities and allergies. Some pups can't handle corn, wheat, rice, and barley, so you should look for grain-free formulas. Other canines are highly allergic to poultry, so red meat or fish-based recipes are the best bet. You can also look into weight management dog food or search for vet-approved formulas for many health conditions, from diabetes to urinary tract infections. Some recipes even require a doctor's authorization and are unavailable in retail stores.
Finally, consider the type of food you want to feed the pup:
Kibble is the most nutrient-rich format, the most affordable, and the easiest to handle. It's also often a culprit of excessive weight gain and some health issues, like UTIs.
Wet dog food is ideal for picky eaters, but it's more costly and comes with lower nutritional value. Recycling is also a chore.
Freeze-dried raw dog food is the latest fad that's supposed to be healthier and tastier, though the jury's still out.
Once you factor in all three parameters, you'll find the best food for your pooch. And we're here to help you narrow down the list of the healthiest dog food brands. Let's start with what we believe are vital signs of quality canine food.
How to Pick the Best Among the Top Brands of Dog Food
Let us share the thinking process behind this overview. Consider it a checklist of sorts to measure all manufacturers against. The more points the brand checks, the safer and healthier it is for your pooch.
The understandable ingredient list and nutritional info. Compare dog food brands' guaranteed analysis against the AAFCO recommendations. The combination of protein, fat, fiber, and other nutrients should be tailored to your dog's breed size and life stage. The younger and smaller the pup, the more energy she will need.
No red flags among the ingredients. Pet nutrition research is ongoing, and there's plenty of controversial information on the use of grains, beet pulp, or alfalfa. But other ingredients are definitely dangerous. The list includes everything from artificial colors and flavors to preservatives and melamine. Ingredients made in China are also suspect, unlike locally-sourced produce and farm-raised animals.
Solid reputation and high customer rating of dog food brands. You don't have to trust all reviews blindly, but checking the FDA archive for recalls is always a good idea. Besides, check out 3-star reviews on Petco, Chewy, or Walmart. These are the ones to contain useful details, unlike one or five-star posts that are usually 100% negative or positive without any actual info.
Manageable pricing. There's no reason to go broke over pet food when there are plenty of affordable alternatives that are just as good. Remember that switching kibble or wet food is hard on your pooch, so choose wisely and be ready to stick with one brand for a while.
Accessibility and stability. The former is crucial in times of crisis when you need to be able to get your hands on dog food fast and easy, whether you find it in a grocery store or set up auto-shipping online. And stability means the brand is less prone to changing recipes often. New ingredients or proportions can lead to digestive issues, a loss of appetite, or worse.
Extra bells and whistles. These may include the variety of bag sizes to fit first-time buyers and multiple-canine households. The best manufacturers will also offer the same kibble for different life stages, from puppy to senior pooch. Having the option to supplement dry dog food with canned products or treats with similar ingredients is also a pro.
If you run a dog food brands comparison, remember there are different types of dog food brands. Some are dirt-cheap and can't compete with high-end manufacturers. Others offer trendy human-grade products that have nothing in common with traditional pet food brands established 50 to 100 years ago.
Top 10 Best Dog Food Brands in 2021
If you paid attention, you know how we chose the complete and balanced dog food brands for this overview. It was challenging to narrow down the winners. We had to consider the wide variety of products and the requirements of each category. For instance, many brands produce canned dog food, but Merrick's variety, ingredients, reviews, and reputation make it a winner in our eyes. Still, our choice of the best dog food brands is subjective and may be different from yours. Remember that we're merely expressing our opinion based on research and personal hands-on experience.
Check out our dog food brands reviews and follow the links to learn more about each manufacturer and their best-selling products. There's plenty more to learn about their manufacturing facilities, ingredients, recall history, and individual products. We have answers to all your questions, so explore and learn. Your pup will be grateful for all the time and effort you put into finding the ideal food for him.
The Best Among the Top Dog Food Brand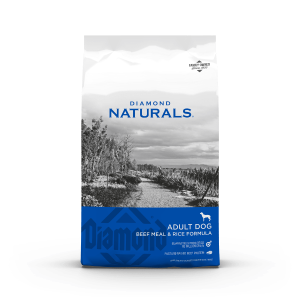 Diamond Naturals came to life after most heavy-hitters of the market had been established, yet long before the new wave of all-meat dog food brands. That's why the company's offers are truly well balanced, offering holistic health support and comprehensive benefits. While most recipes use the traditional protein sources like chicken, lamb, or beef, all are farm-raised and free-range, resulting in superior quality and higher nutritious value.
Every Diamonds Naturals formula is enhanced with fruit and veggies, as well as superfoods, like kale, chia seed, or blueberries. They represent the natural sources of vitamins and minerals. Omega fatty acids, DHA, glucosamine, and chondroitin make their presence known by protecting joints and improving skin and coat condition. Antioxidants support the immune system, while probiotics enhance digestion and make for an easier transition to this brand's kibble and wet food.
Like many high-quality dog food brands, Diamond Naturals dog food does not overwhelm pet owners with choices. The company offers a couple dozen recipes for different breed sizes and life stages in various flavors. The manageable selection makes it easier to find the right formulas for your pooch. And the prices are surprisingly affordable for such a reputable and popular brand.
The Best Dry Dog Food Brand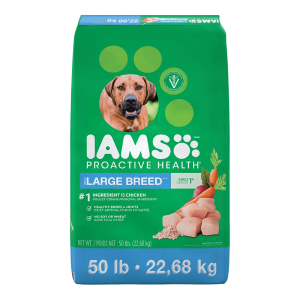 There is something liberating about the limited number of kibble and canned dog food recipes Iams offers. The company's lineup used to be more extensive, but many formulas were discontinued to leave a couple dozen recipes. Like other products in the best dry dog food category, Iams kibble is usually made with chicken, lamb, or beef as the first ingredient. The well-balanced formulas include whole grains, vegetables, fruit, and health supplements. Omega fatty acids, vitamins, minerals, and probiotics are all on the ingredients lists. What else do you expect from quality dog kibble?
Besides, Iams is among the oldest dog food companies on the market. In fact, it was the first manufacturer to recognize dogs as omnivores and include animal protein in kibble instead of relying on plant-based protein sources. After half a century of independent operation, the company became part of Mars Inc, the US's largest pet food producer.
Despite a few hiccups with recalls in recent years, Iams dog food remains the diet of choice for plenty of US households. After all, you can find dry dog food to suit small and large dogs, puppies and senior canines, among Iams products. And it's easy to find in any big-box store or corner shop.
The Best Wet Dog Food Brand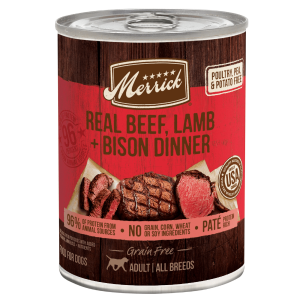 There's no arguing kibble is cheaper and more convenient, but there's nothing more satisfying than watching your pooch tear into a juicy entree of chicken, beef, or lamb. Canned products are a godsend for the unlucky parents of fussy eaters, as the aroma alone is usually enough to entice the pickiest of canines. Merrick boasts one of the most extensive lineups among canned dog food brands, with plenty of recipes dedicated to specific breed sizes, life stages, and conditions. You're sure to find the right canned product among their offers.
One of the best things about Merrick dog food is their dedication to selecting high-quality ingredients, locally grown and harvested. Expect to see loads of animal-based protein sources, healthy fat, and fresh or dried produce. While some recipes are grain-free and perfect for delicate tummies, others include whole grains to fill your pooch with energy and promote digestion.
Merrick is another example of a pet food company that started as a family business and grew into one of the most popular dog food brands, soon bought by a larger manufacturer. However, unlike most mom-and-pop brands, Merrick retained its leadership after becoming part of Nestle Purina. Most importantly, the brand continues the mission of providing dogs with the best canned dog food, high-quality, delicious, and exciting.
The Best Puppy Dog Food Brand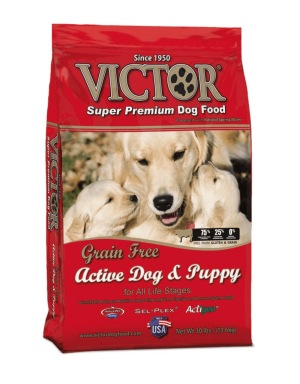 If you want only the best dog food for puppies, formulas by Victor will be right up your alley. The family-owned company boasts a spotless reputation and not a single recall, unlike many mass-produced brands. Although most recipes are tailored towards working and hunting dogs, as well as pregnant and nursing mothers, the high-energy formulas are just as good for growing pups. They need all the protein, fat, and carbs they can get, and Victor dog food is happy to provide.
Meat and fish meals are always at the core of Victor's recipes, as they are more nutritious than meat. Unlike many premium dog food brands, the company doesn't try to entice you with exotic protein sources but still manages a broad enough variety of formulas with chicken, beef, lamb, duck, and turkey. Moreover, up to 80% of the protein in every formula is animal-based, so the company doesn't cut corners to keep the price down. Although some recipes contain legumes, plant-based protein isn't as prevalent in Victor kibble and canned food as it is in cheaper alternatives.
You have to appreciate the brand's transparency policy. Victor products are free of questionable ingredients and ambiguously named components. If you read the label carefully, you'll also notice VPRO blend on every bag. It's a proprietary mix of prebiotics, probiotics, selenium yeast, and other health supplements that boost immunity, keep the digestive system running like clockwork, and ensure the skin is irritation-free. While the pricing may prevent you from choosing Victor as a long-term solution for a multiple-canine household, it's definitely a worthy choice for pups after weaning.
The Best Senior Dog Food Brand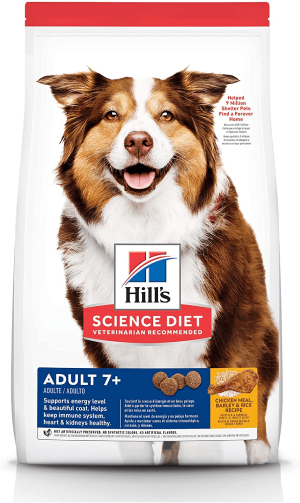 Hill's dog food was first created to deal with one dog's kidney failure issues, but the company quickly outgrew home production and became one of the most popular (and vet-endorsed) brands. Science Diet was also among the first lineups to recognize the needs of aging dogs. The fact that the company offers special formulas for canines of 11+ years is proof enough they know how to treat aging dogs to prolong their life expectancy.
The best senior dog food formulas by Hill's are tailored to the needs of pups who become less active. While all kibble and canned recipes include animal-based protein, they are also rich in fiber and whole grains to promote trouble-free digestion. The supplements, like Omega 3 and 6, enhance skin and coat condition, while L-carnitine ensures your pooch stays lean and strong without gaining extra pounds. Other additives are good for cognitive function and joint health. You can even find formulas tailored to different breed sizes and health conditions to further enhance your pup's later years.
While Hill's Science Diet dog food has been around for over 80 years, the company's reputation is almost scot-free, with only three recalls in the last 20 years. Regardless of the latest all-meat fads, this dog food is created by veterinarians and comes highly recommended by nutritionists. Ask your vet about Hill's Science Diet and give it a try. You might be surprised by how much more energetic and strong your pooch can be at 12 or 15.
The Best Dog Food Brand for Small Dogs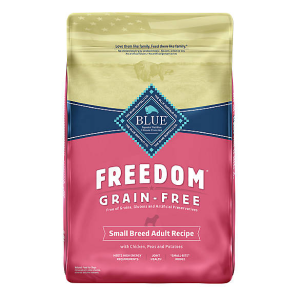 One of the youngest companies on this list grew from a tiny family-owned business into one of the most recognized brands over the course of two decades. Blue Buffalo dog food comes up with plenty of nutritious and delicious formulas, but small dogs are the biggest winners with the Blue Buffalo Wilderness lineup. Focused on delivering the best small breed dog food, these products are packed with high-quality protein sources ranging from chicken and salmon to bison, rabbit, duck, and even alligator. With so much protein and healthy fat squeezed into the recipe, small breeds will have plenty of energy to burn through with their high metabolism.
While Blue Buffalo has only been around since 2003, it's become so hyped up, the small mom-and-pop manufacturer was bought out by General Mills. That isn't necessarily a bad thing, as mass production is usually a precursor to tighter quality control and fewer causes for recalls (and Blue Buffalo has had its fair share of those).
If your furball is more of a couch potato and starts gaining weight with the Wilderness formulas, switch to the Life Protection formulas tailored to specific life stages and breed sizes. And the Basics lineup is ideal for pups with sensitive tummies prone to food allergies. A single protein source is always easier to digest without issue.
The Best Dog Food Brand for Large Dogs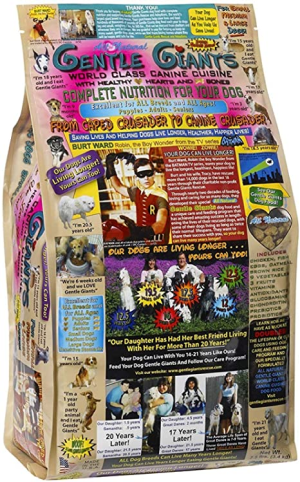 While Gentle Giants offers plenty of products for canines of all sizes, the company started as a means to extend the life expectancy of large and giant breeds. The carefully formulated recipes include high-quality protein sources along with healthy carbohydrates from dried veggies and legumes. The overall carbs content may seem too high, but an average of 24% protein makes up for that.
Besides, Gentle Giants sure know how often large pups deal with excess weight. For that reason, fat content is reduced to 10%, enough to support skin and coat health without putting on extra pounds. Filled with vitamins, minerals, and supplements, the best large breed dog food, dry and canned, is suitable for puppies, adult and senior dogs. Just make sure you follow the feeding guide.
The only thing Gentle Giants dog food lacks is a wider bag size variety. A single 18-pound bag won't go very far in feeding two or more large pooches. We'd also prefer the company to be a bit more transparent when it comes to ingredient sourcing and manufacturing. Without a single recall to its name, the brand holds its own among huge international corporations and boasts a steady fan base.
The Best Cheap Dog Food Brand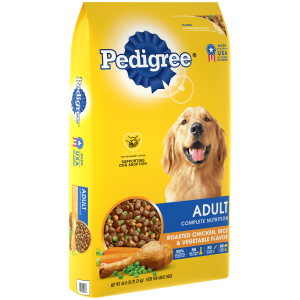 You can't go cheaper than Pedigree. The recognizable yellow bags with bold promises and happy dogs are sold worldwide, and pet owners love this brand for affordable pricing and passable quality. As long as you don't expect to find premium ingredients or trendy grain-free formulas in the Pedigree lineup, you're golden. Still, every recipe meets the FDA and AAFCO requirements when it comes to component safety and nutritional value. Looking at the ingredient lists full of corn, wheat, and soy, it's hard to believe it, but Pedigree dog food does have everything your dog needs.
As the most recognizable of Mars Inc pet products, Pedigree is held to high quality standards. It's surprising, but the dog food was recalled only three times since 2000. Hopefully, the company has resolved the production issues that caused foreign matter contamination of the bags and cans.
Pedigree offers bargain products, far removed from the safest dog food brands and meat-first recipes. Still, you can't go wrong with a huge yellow bag if you need to feed a pack of large dogs on a budget. Just remember that the 'Chicken and Vegetable', 'Chicken & Steak', and other flavors have nothing to do with actual ingredients and everything to do with the added flavorings.
The Best Vegetarian Dog Food Brand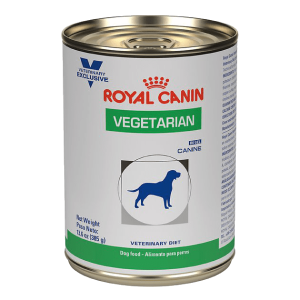 Royal Canin may not be one of the 'natural' dog food brands you associate with vegetarian dog food, but it's the best option you can find if a meat-free diet is something the vet prescribed for your pooch. Unlike most up-and-coming brands, the company does not follow every newfangled trend lightly. In fact, vegetarian products are part of their Veterinarian lineup that requires a vet's authorization to purchase. If that's not a sign of how seriously Royal Canin treats your pup's health, we don't know what is.
Over 50 years of research goes into every Royal Canin recipe, and vegetarian formulas are no different. One look at the ingredients list is enough proof of the brand's dedication to canine health. While most formulas include unpopular ingredients, like brewers rice, oats, and barley, their combination with vitamins, minerals, and other health supplements makes for strong immunity, shiny coat, and irritation-free skin.
Whenever you feel like Royal Canin dog food is overpriced, consider it's one of the best-rated dog food brands most vets are happy to recommend. Besides, in over 50 years, the company issued only two recalls, and there have been no issues with kibble or wet food safety since the infamous Melamine Pet Food Recall of 2007.
The Best Grain-free Dog Food Brand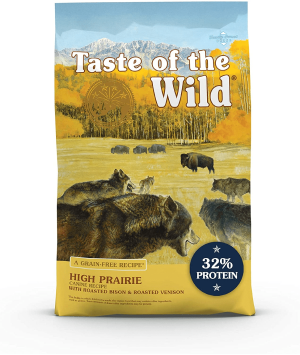 While many top brands of dog food offer grain-free recipes for allergy-prone canines with sensitive tummies, Taste of the Wild dog food takes the cake. Developed by the Diamond Petfood company, the formulas are rich in exotic animal-based protein sources. Forget the same boring rotation of chicken, beef, and lamb. You can now offer bison, venison, and duck to your energetic pooch to satisfy his inner wolf craving for prey.
The grain-free lineup is impressive with its high protein content and plenty of vitamins and minerals derived from veggies, legumes, fruit, and berries. There's no need to dilute the delicious goodness with fillers like corn, wheat, or soy. Still, some ingredients can be a touch too exotic for your pup on the first try, so make sure to consult the vet and start with small bags of kibble.
And if the best grain-free dog food doesn't work out for your domesticated omnivore, there are other options among the Taste of the Wild formulas. Ancient Grains recipes come with grains, while the Prey Limited Ingredient line is beloved by dog owners with food sensitivities. With only eight or ten core ingredients, this dog food is less likely to cause allergies. And the ingredients list is easier to understand too!
If none of the recommended dog food brands is just right for your pooch, never fear. We've got plenty more suggestions for you. Here's a list of our guides to fit a variety of canine needs:
Best Wet / Canned Dog Food
Best Dry Dog Food
Sure, this dog food brands list is not all-encompassing. Still, we tried to account for the most common canine needs to help you find the right recipe for your pup. Whichever food you choose, talk your decision through with the vet before making a switch or committing to auto-shipping. And remember to keep an eye out for any changes in your dog's mood, coat condition, stool, and appetite. After all, you are the best judge of how well the products by the best dog food brands fit your pooch's needs.