A dog-free person might wonder, 'What's the use of knowing dog age to human age?'. Admit it, only a guy (or lady) who has never had a pet can ask this silly question.
Every dog lover knows how vital this information might be. As you are equipped with these figures, you understand a lot of things about your canine and its behavior. For instance, dog years converted to human age can give you a sense of their life span, energy levels, some health conditions, or behavioral patterns. This can give you some clues towards what to expect from your canine and what is considered to be a norm or a sort of deviation.
But you shouldn't deny the fun part of this. Just fancying how old your dog would be if they wake up being a human out of the blue can make you laugh or at least smile.
With this in mind, we have put out this article. We'll share an old and new way to calculate dog years so you could make judgments by yourself.
How Old Is My Dog in Human Years - Why Things Are not That Simple?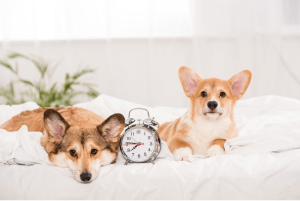 As it turns out, different species age in a different way. Even though dogs and humans share the same environment, nearly equal quality of food and healthcare, some get mature earlier while others stay young for a longer period of time.
Just like humans, canines follow the same development pattern. At first, our four-pawed friends are in puppyhood, then they get into the adulthood stage, and only then they get old. All these stages are noted by a specific set of features and processes on different levels.
However, what makes dogs different is how fast they get old. According to the research, dogs advance in age on a molecular level in a slightly complicated way. Their body faces rapid growth at first but later slows down. This feature makes the dog years to human years calculations somewhat challenging.
An Old Way to Calculate Dog Age - 7 Years as One Year
The shortcut to defining 'how old is my dog' is by doing simple math. To find out the human age of your pet, you just multiply 1 year of the dog's life by 7 years of human life. This uncomplicated formula is explained by the assumption that rests on the observation of human and dog longevity. People noticed that dogs live for around 10 years, while the average lifespan of humans is around 70 years.
It's as easy as pie to convert dog years to human years in this way. For example, your dog is 6 years old now. So, you multiply 6 by 7, and you find out that your pet is around 42 years old. It's as easy as it is. But is this way accurate? Let's figure it out.
A New Way to Calculate Dog Age - A More Accurate Method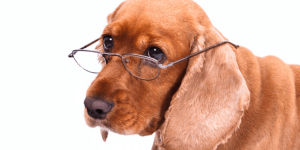 Scientists have revealed a more effective way to determine dog age. They assure that the specific life stage and breed play a crucial role in defining the age of the pet. To make the calculation process easier, researchers created a dog age chart. They also demystified the myth that canines age at the rate of 7 human years and proved that:
The first year of your furry buddy is the same as 15 years of human life. It means that after the first year of the dog's life, your pup grows into a teenager.
The second year adds 9 extra years to human life. In other words, your dog is a 24-year-old adult after the second year of its life.
Later, depending on the breed size, every dog year is equivalent to 4 or 5 years.
To make things easier for dog handlers, there is a dog age calculator that will help you avoid any misunderstanding in terms of finding out how old your dog is in relation to the human age. Please see the dog years chart to get to know how old is your pet compared to human age.
Age of dog

Dog's age in human years

Small

Chihuahua, Pug, Yorkshire Terrier, and more

20 lbs or less

Medium

Collie, Alaskan Malamute, Bulldog, and more

21-50 lbs

Large

German Shepherd, Cane Corso, and more

51-100 lbs

Giant

Great Dane, Spanish Mastiff, and more

100 lbs and more

1

15

15

15

12

2

24

24

24

22

3

28

28

28

31

4

32

32

32

38

5

36

36

36

45

6

40

42

45

49

7

44

47

50

56

8

48

51

55

64

9

52

56

61

71

10

56

60

66

79

11

60

65

72

86

12

64

69

77

93

13

68

74

82

100

14

72

78

88

107

15

76

83

93

114

16

80

87

120

121
How Science Explains a New Approach of Calculating Dog Age
We've been calculating the dog's age using the 'rule of paw' approach for years until the researchers published the results of the investigation carried with 104 Labradors.
The aim of the investigation was to spot any difference in the aging of dogs and humans on the molecular level. It was known from the very beginning that both human and dog DNA doesn't change over the years. However, our DNA has marks called methylation, which is similar to the wrinkles on our face as we become more mature. The researchers compared the DNA of Labradors ranging from early puppyhood to the age of 16 years. They also contrasted all the molecular processes with the changes in the human body.
In the course of their research, they have revealed a new approach to dog years calculation that shows the correspondence between the dog-human age more accurately.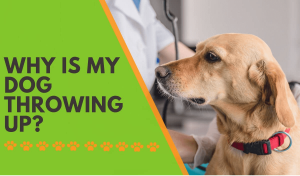 Why Is My Dog Throwing Up: Reasons & Help
When you see your dog throwing up, you get concerned. Learn the reasons for dog vomiting, how to help your pet, and when it's time to take it to the vet.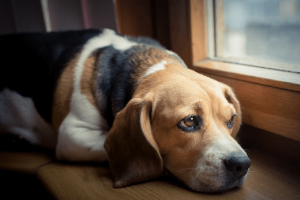 What to Do if Your Dog Is Depressed
How do you know that your pet is having depression and what to do if your dog is depressed? The answers to these and more questions are laid down here.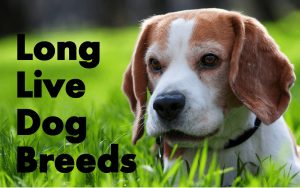 Dog Breeds with Longest Life Spans
Would you like to know what are the longest living dog breeds before you get a new pup? In this article, we'll list top 10 dog breeds that fall within this criterion.